Liberators of America! Women come together to provide safe spaces in stadia across the continent
For a soccer fan, it doesn't get better than donning your club colours and heading out to the stadium with friends to cheer on your team in the Copa Libertadores. Unfortunately, for half the population, this simple act often comes at the price of being made to feel like they shouldn't be there.
But thanks to social media and a slow transformation in mindset, more and more women now feel safer and more comfortable doing what every man never thinks twice about doing.
"There is still a part of the crowd that thinks [the stadium] is not a place for women or thinks that we are just going there just to "look for a man" and with that usually comes the chat-up lines." Explains Paula Alvarenga, a member of Flamengo's biggest supporters group, Raca Rubro Negra. It's happened that fans heard gunshots during a game and, asking a policeman if it was safe to pass by, were told "You are not even supposed to be here". Many of them do not understand that we just want to support our team like any man does."
Paula went to Arena do Gremio three weeks ago and will be there watching her beloved Flamengo tonight in what could arguably be called her team's biggest game in her lifetime of supporting.
"The Libertadores makes everything more intense, even more so at the semi-final stage. We didn't get the win [in the first leg], but it was a great game and being there supporting for 90 minutes was a unique experience. On Wednesday night, I will be in the stands, in our much-loved northern sector, where the fans never stop and I hope we can book our place in the final."
Paula shares her experiences of being a fan on social media and it's these new connections that have allowed female fans to be able to band together in larger and larger groups to be able to watch games without feeling threatened.
In 2017, the Museum of Football at Sao Paulo's historic Pacaembu stadium hosted the first national meeting of 'Mulheres de Arquibancada' (Women of the Stands) which aims to unite groups from all around the country, democratise spaces such as stadiums and fan chat rooms by increasing and facilitating a female presence.
The now annual meeting has since been hosted in Belo Horizonte and Porto Alegre, home of one of tonight's semi-finalists, Grêmio.
Present in the Maracana tonight will be members of 'Elis Vive!', a group made up of Grêmio fans that have one of Brazil's most famous singers as a symbol of resistance to the sexism, homophobia and other prejudices that should not be tolerated in stadiums or anywhere else, for that matter.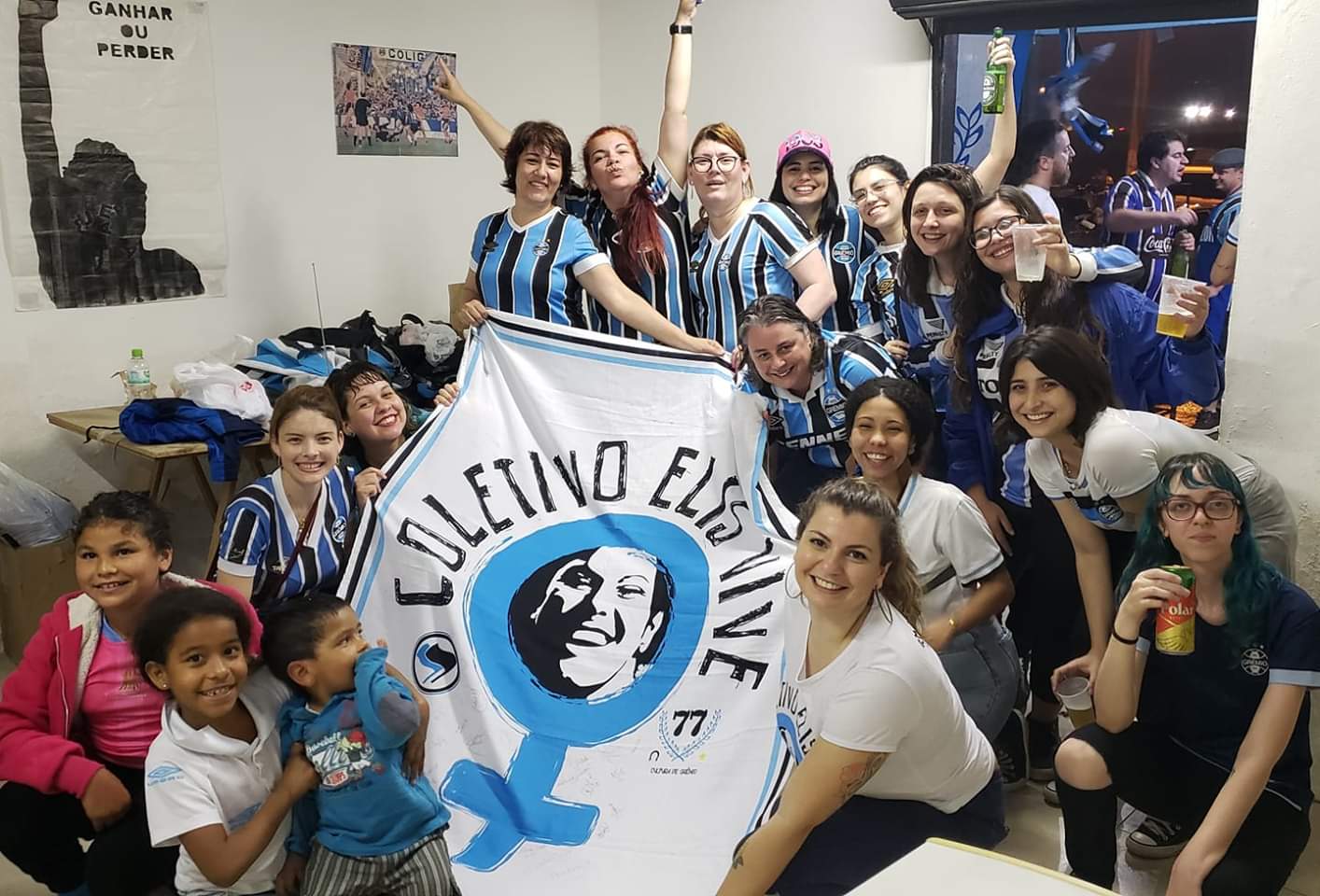 Coming together just last year, the group already has over 60 members brought together on social media through a shared experience going to games and being made to suffer purely because of their sex.
One member of the group, Patricia Ferreira, told us that things are gradually improving for women on the terraces and situations like being forcibly grabbed and kissed during goal celebrations are becoming less frequent.
Despite this, Patricia feels that this is just the first step on a very long road to acceptance.  "We have nothing to celebrate," Patricia says. "We have a big fight still ahead, starting with having an exclusive ombudsman for women, with effective resolution of harassment cases. Also the obligation of all clubs to listen to, and act on, campaigns that demand respect for women. In life and in the stands."