Who are the Americans who have played in the CONMEBOL Libertadores?
Renato Corsi became the first American to play in the Libertaodres when he came off the bench for Argentinos Juniors in a game against Ferro Carril Oeste on August 15th of 1985. Corsi is also the only American to win the Libertadores, having lifted the title with Argentinos in 1985. 
Edgar Castillo is the American with the most Libertadores appearances. Castillo featured in 12 matches, 6 with Mexican club Tijuana in 2013 and 6 with Atlas in 2015.
The most recent American to appear in a Libertadores match was Johnny, who has played in 2 matches for Internacional so far in the 2020 Libertadores. 
The complete ranking of Americans with Libertadores appearances: 
1. Edgar Castillo: 12 (6 with Tijuana in 2013, 6 with Atlas in 2015)
2. Jonny Walker: 10 (9 with Universidad Católica in 2000 & 2002, 1 with Colo-Colo in 2003)
T3. Renato Corsi: 8 (Argentinos Juniors, 1985-86)
T3: William Yarbrough: 8 (León, 2014)
5. Joe Corona: 7 (Tijuana, 2013)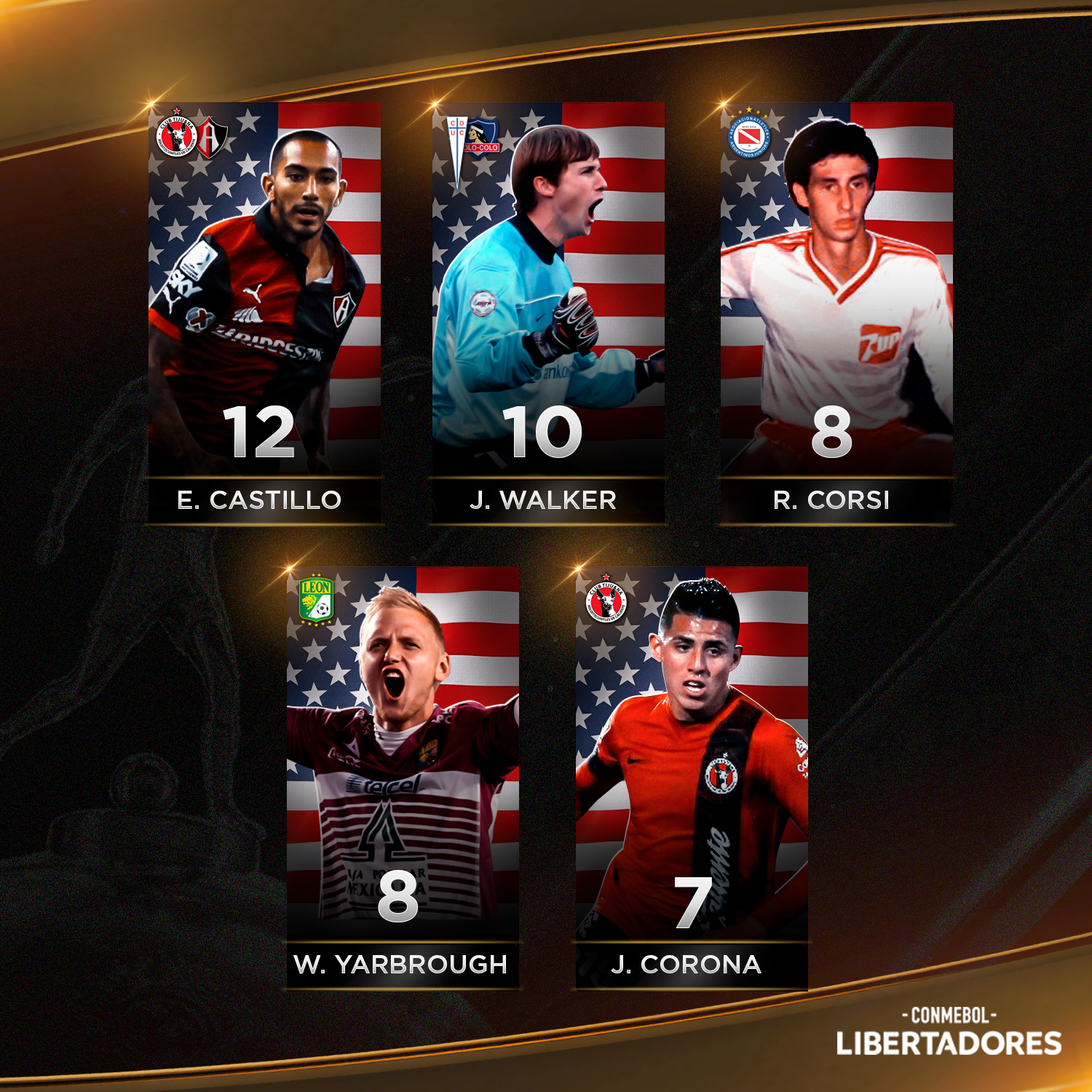 6. Gerardo Mascareño: 5 (Chivas, 1998)
T7. Greg Garza: 4 (Tijuana, 2013)
T7. Michael Orozco: 4 (San Luis, 2009)
T7. José Torres: 4 (2 with Pachuca in 2009, 2 with Tigres UANL in 2015)
10. Joel Soñora: 3 (Talleres, 2019)
T11. Johnny: 2 (Internacional, 2020)
T11. Jonathan Bornstein: 2 (Tigres UANL, 2012) 
T11. Luchi Gonzalez: 2 (Sporting Cristal, 2004)
T11. Kyle Zenoni: 2 (La Paz FC, 2008)
T15. Victor Garza: 1 (Tigres UANL, 2012)
T15: Samuel Ochoa: 1 (Estudiantes Tecos, 2010) 
Of the 16 Americans to have played in the Libertadores, 3 have scored goals. Michael Orozco became the first American to score in Libertadores history when he found the back of the net for San Luis in a 2009 match against Peruvian side Universitario. The other two managed to score in the same game. Tijuana's Edgar Castillo and Joe Corona each scored in Xolos' 4-0 win over Bolivia's San José in 2013. 
For more on Americans in the Libertadores, click here.