River Plate profile: Buenos Aires big boys look to defend Copa Libertadores crown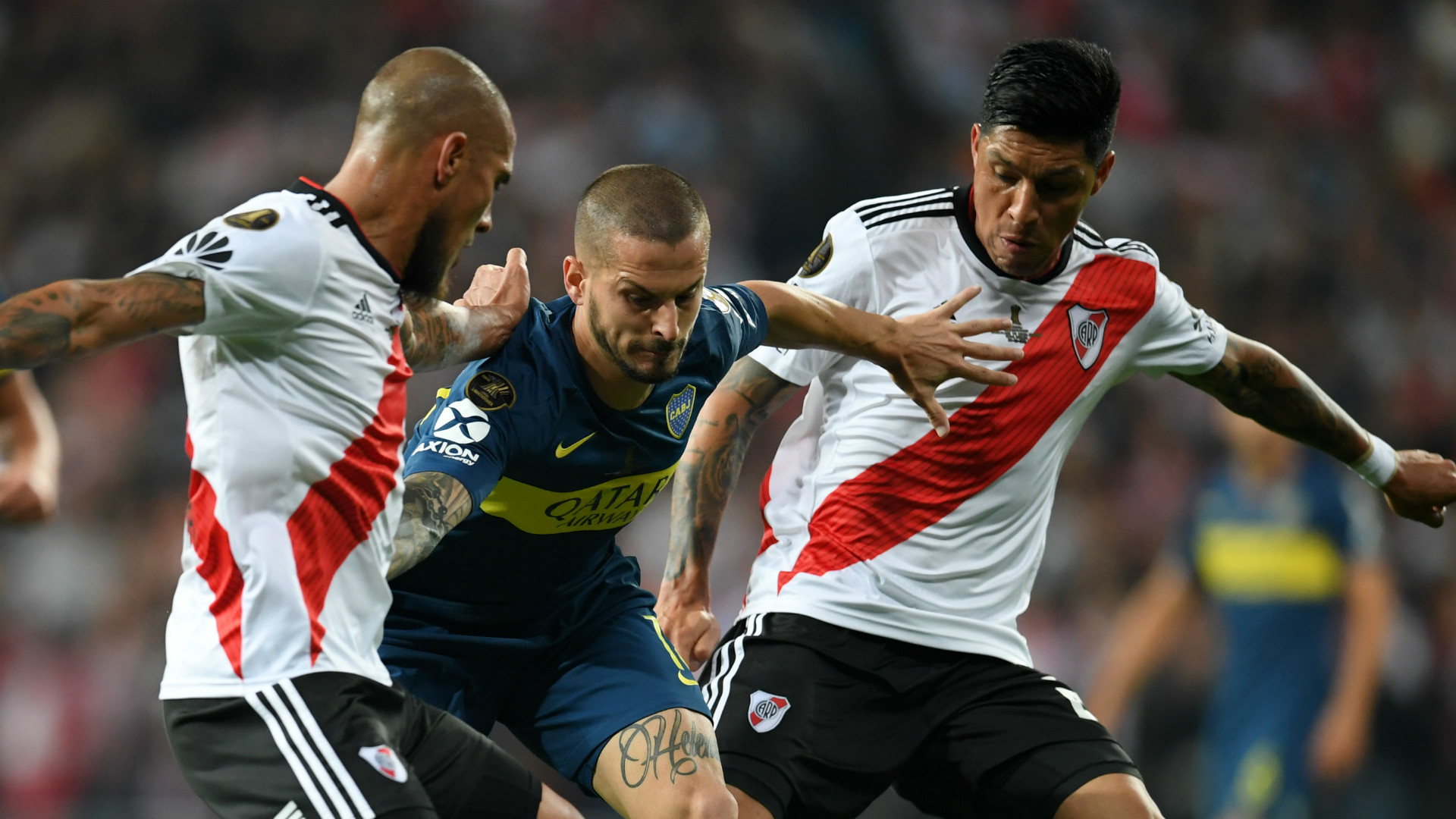 The defending Libertadores champions still have the chance to defend their continental crown. River Plate, one of the most well known clubs to emerge from this corner of the world, are in the final four of South America's premier club competition once again, where they will come up against bitter rivals, Boca Juniors.
Founded on 25 May 1901, the club is seen today as the club of Buenos Aires' social elite, but in truth it came from much more humble beginnings. Just like their rivals Boca, the side began in the neighbourhood of La Boca, less than one kilometre from where La Bombonera stadium is located.
It is said that the club received its name from one of its founders, Pedro Martínez, who saw the phrase "River Plate" on the side of boxes arriving at the Buenos Aires port from Scotland. Thus, a world renowned sporting institution was born.
And of course, "El Superclásico" is the biggest game in the Argentine football calendar, and is one of the most intense football derbies to be found anywhere in the world. Are you a football enthusiast with a derby bucket list? Get this one down.
In terms of history, passion and ferocity, it is up there with the best of them: Fla-Flu, Barça-Real, Liverpool-Manchester United, the Old Firm derby. With so much on the line next week, this will surely be a fixture worth keeping an eye on.
👌 @RiverPlate's road to the #Libertadores semifinals! 1⃣4⃣ goals, including a few that proved to be quite important for qualification!

📌 Next Tuesday their semifinal clash with @BocaJrsOficial begins with the first leg at El Monumental. pic.twitter.com/1HRQrSCdmn — CONMEBOL Libertadores (@TheLibertadores) September 26, 2019
And in addition to being one of the most famous South American clubs, they also boast one of the most instantly recognisable shirts in world sport. A white top with a red diagonal sash from top to bottom – similar in design to that worn by Rio de Janeiro club Vasco da Gama – means that even those with only a passing interest in the game can pick a River Plate kit out of an assorted lie up.
In terms of comparison to great rivals Boca, River Plate have not enjoyed quite the same level of success in South America's premier club competition. While Boca can claim an impressive six titles – four since the turn of the century, all in a seven year period – River have won the Copa Libertadores on four occasions, an achievement in itself which is not to be sniffed at.
Looking at the two Brazilian semi-finalists, Flamengo have just one Libertadores title to their name, won all the way back in 1981, while Grêmio are three-time Libertadores winners. In other words, River have as many titles as Grêmio and Flamengo put together, while Boca boast more.
And two of those River titles have come in the last three editions of the competition, with the club under the stewardship of Marcello Gallardo. The astute tactician, given the top job back on 6 June 2014, has been afforded both the time and the patience to build a team and a playing style in his own image, with River now reaping the rewards of Gallardo's input.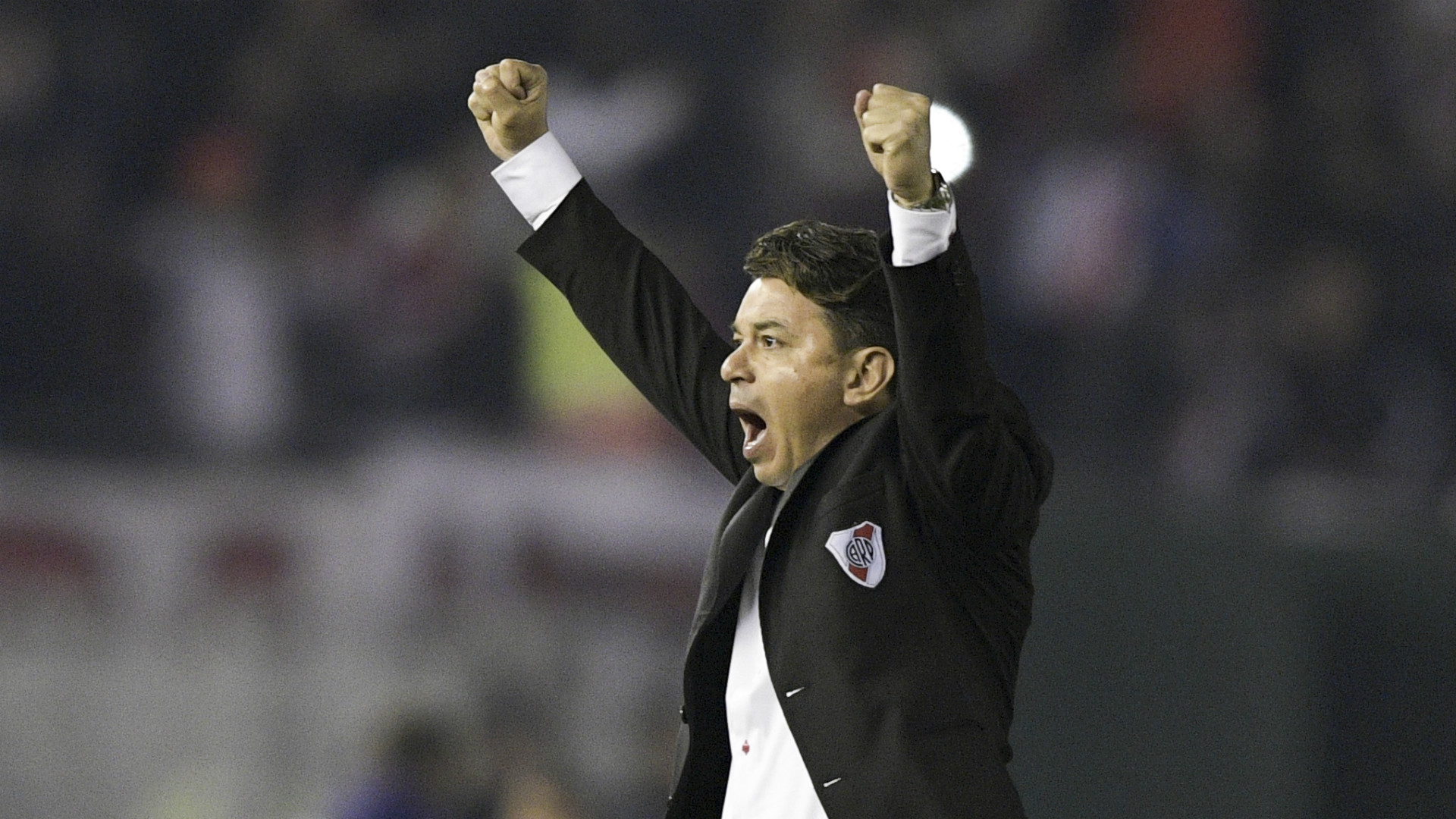 Even with the side losing key pieces from their successful line-up last season – most notably in defence and midfield, Gallardo has been able to rebuild as the club's playing philosophy is so deeply entrenched in the players. River may not be as easy on the eye as their neighbours over in La Boca, but they certainly get the job done inside the four white lines.
This year's Libertadores campaign has been a case in point. River made it through Group A unbeaten, but four draws in six outings meant that they finished in second place, behind Interacional. And while they scored at a rate of less than two goals per game, they boasted the best defensive record in the group, leaking just five goals at a rate of less than one goal every 90 minutes.
There followed a pair of goalless draws with Cruzeiro in the round of 16, while a solid if unspectacular showing over two legs against Cerro Porteño has brought them this far. And that is what makes this upcoming semi-final such an intriguing proposition.
🤩🇦🇷🏆 They meet again.

1 week from today, @RiverPlate & @BocaJrsOficial will face off in the #Libertadores semifinals! pic.twitter.com/T3MUHCF9md — CONMEBOL Libertadores (@TheLibertadores) September 24, 2019
River, the traditional big boys of Buenos Aires, known as "the millionaires" since a series of lofty player investments during the 1930s and 1940s and a move away from their La Boca beginnings, against a club intrinsically linked with attacking flair, with noise, with continental success.
On Gallardo's watch, River have turned quiet efficiency – the power of the collective over the raw talents of the craque – into something of an art form. Almost one year on from their meeting in the final, history could well be about to repeat itself.