Out from the Underground - 'Consulado Fla Londres' unites Flamengo fans away from home
"There are no words to explain the love I have for Flamengo. My wife asks me, 'Why don't you rest and watch the game at home?' But it's completely different, the atmosphere here is so special. To be here with other Flamenguistas.. When you arrive you can feel the blood pumping through your veins."
Leonardo Corrêa is 44 and lives with his long suffering wife and two kids in Maida Vale, west London. He's trekked for nearly an hour on across a cold, grey, sodden city to a pub called the Griffin Belle near Vauxhall station to watch his team play Corinthians in what is now the home straight in a commanding league campaign.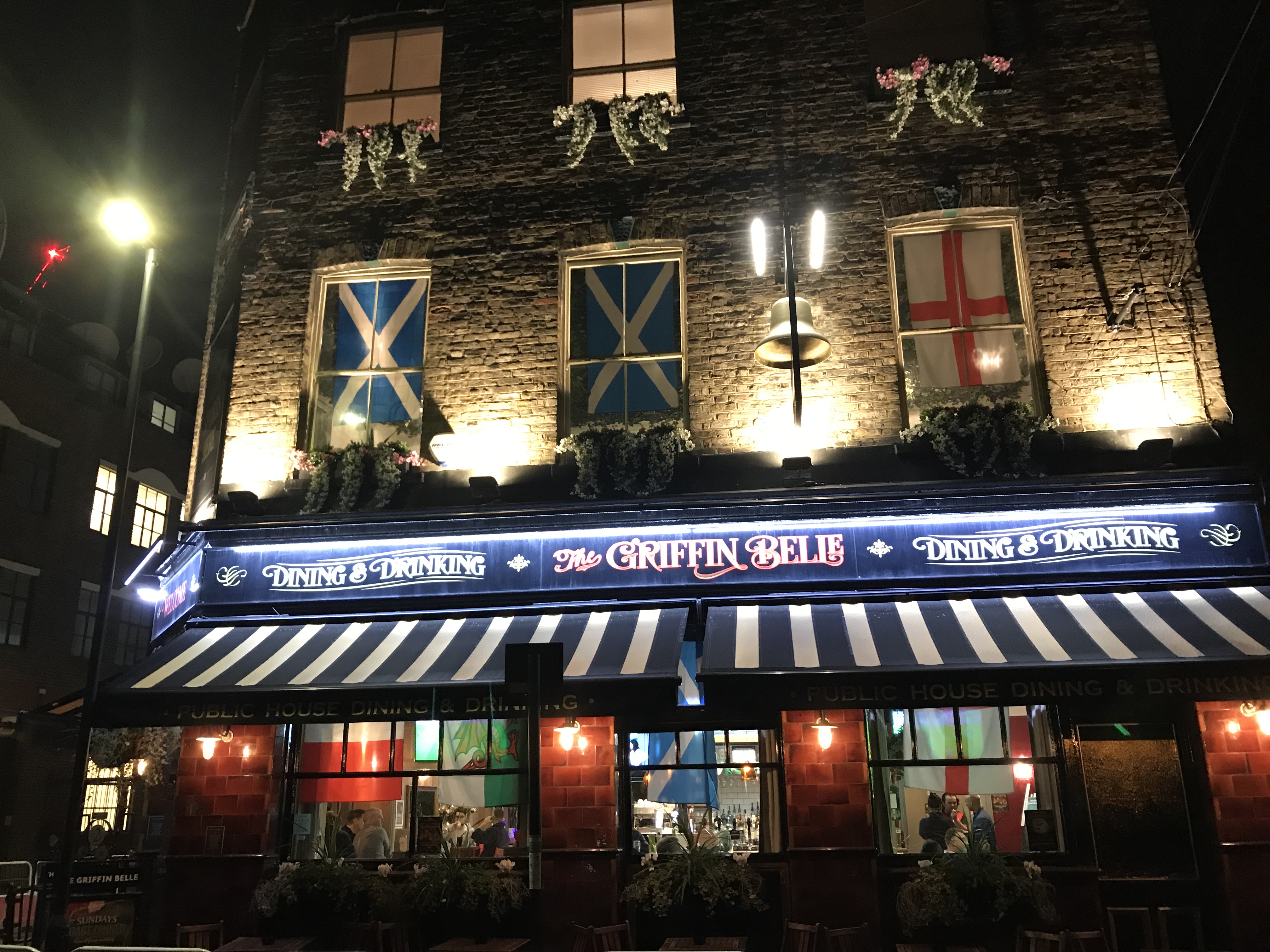 Corinthians themselves could only blink, doe-eyed in the face of the oncoming red-black juggernaut. Two Bruno Henrique goals before the break and another immediately after it had even seasoned pros, goalkeeper, Cassio, and right-back, Fagner, heading for early exits.
Matheus Vidal reduced the deficit before Vitinho's powerful long-range strike made it 4-1 and killed off the visitors hopes completely.
Meanwhile, a little corner of south London has been transformed into a mini Maracanã by the 'Consulado Fla Londres'.
Long term UK residents like Leonardo, are here mixing in with tourists like Lia Stefan and her husband who found the group on social media. "We were on the London Eye this afternoon, he looked on Instagram and then made me come here to watch the game!"
Matt Wandowski, from Bournemouth in England has started following Flamengo because of his carioca wife, Marcella Moreira. "The passing is not as sharp as the Premier League," says Matt, "but they attack a lot and stay on their feet more than I thought they would."
"The last game here was just like being in the Maracanã," beams 24-year-old Letícia Rebelo, whose family live 15 minutes from the stadium in Rio but is here studying strategic marketing at Imperial College London. She found the supporters group on Facebook and came along by herself two weeks ago to watch the five-nil destruction of Grêmio that saw Brazil's biggest team reach their first Libertadores final in 38 years.
"I was there [in 2008] when we were eliminated by América from Mexico and it was the first defeat I saw in the stadium. It had a huge impact on me, I left the stadium crying and people were kicking chairs everywhere."
Now, however, her team is allowing the fans to dream of something very special.
Letícia is too young to have seen the rubro-negro play in a Libertadores final but her father, who was attending the Corinthians game, gave her the bug. "My parents were on their honeymoon when Flamengo won the trophy in '81, so I hear those stories and I just want to experience some of that."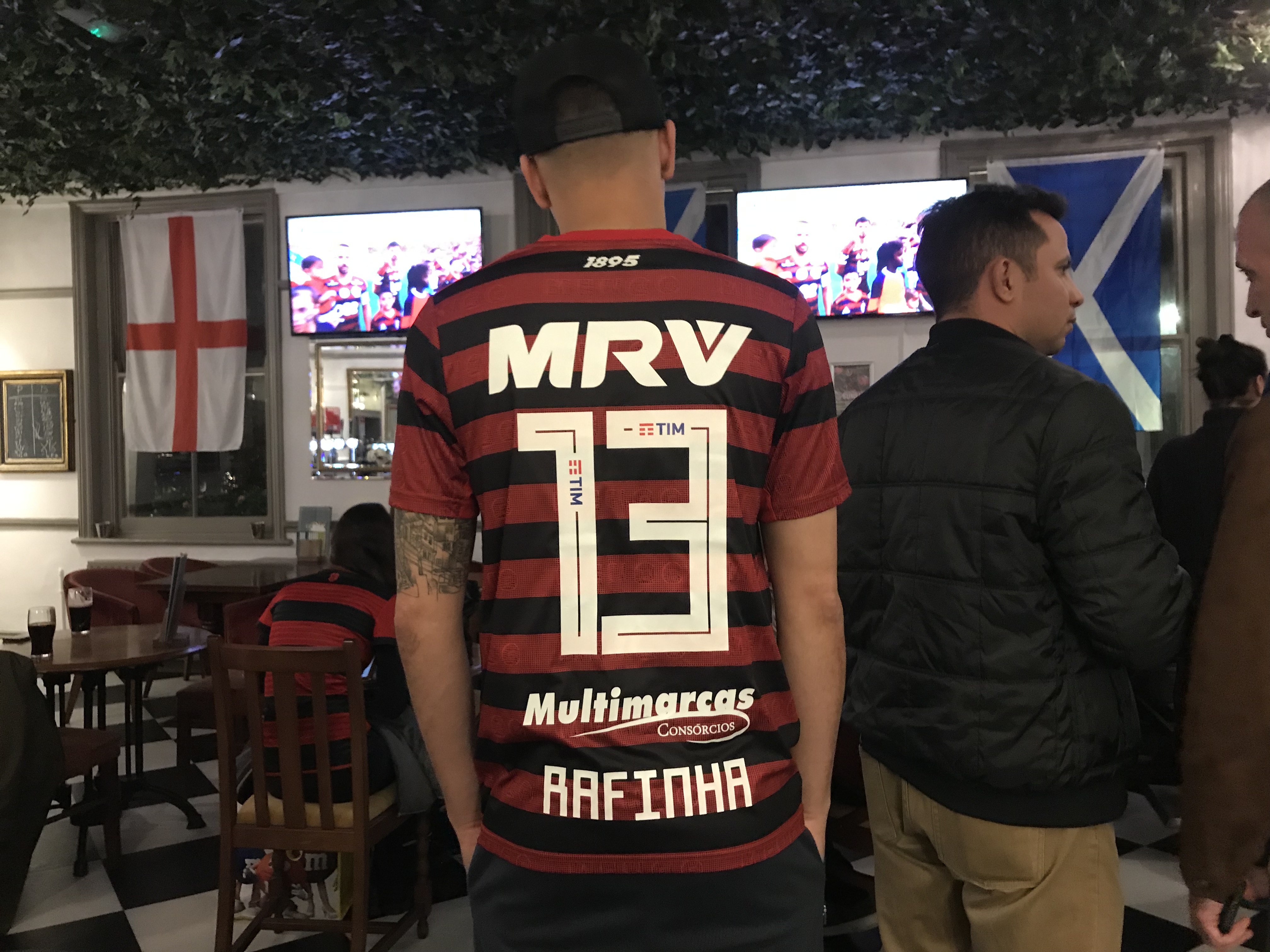 Also part of the group taking over the upstairs room of the Griffin Belle on Sunday night was a childhood friend of Flamengo right-back, Rafinha. Maisson David Ferreira has had a cleaning business here for 12 years and the pair used to play as kids on the streets of Londrina, Paraná, in the south of Brazil. "My grandad is Santos, my dad, Palmeiras but I am the evolution of the species! I chose Flamengo!" He laughs.
Maisson's never been to a game in the Maracanã but doesn't miss a chance to watch on TV and is still in contact with his old pal who wears the number 13 and even has a tattoo on his left arm as a tribute. "I saw him here in London before he signed, we went to a pagode together, he hadn't made his decision by then but he confessed to me that he wanted to feel what it was to play for Flamengo."
London Balling - childhood friend of @R13_official, Maisson Ferreira shows off artistic tribute to his mate, the @Flamengo right-back, and adopted home town. #Fla #Libertadores #London pic.twitter.com/YH8QMr5gqo — Nick Ellerby (@NickEllerby) November 4, 2019
The bar manager at the sports-friendly pub, Reiss-Jones McCarthy, is all too happy about his new Brazilian customers. "We had to apply for a late liquor licence to show the Libertadores. I've never seen the place with so much atmosphere, they brought drums and they sing the whole way through the game," he enthuses. "For the final we're going to have caipirinhas and keep the kitchen open late. It's gonna be a great night!"
"It's an amazing time to be a Flamengo fan," marvels Francisco 'Fred' Souza, the president of 'Consulado Fla Londres', the official London supporters group for rubro-negros who have made their home in what they call 'the land of the queen'. "We had 75 people here for the game against Grêmio and we expect over 150 for the final. If we win, we are going to take over London's streets."
Fred came to live and work in London as a cleaner 16 years ago. He began watching Flamengo games in a Brazilian bar called Canecão in Kings-Cross with other members of fans group, Raça Rubro-Negra, which then became Raça Londres.
As part of the long-term business plan under Eduardo Bandeira de Mello's presidency, the club's Vice-President, Maurício Gomes de Mattos, had the idea of creating foreign 'consulates' to capitalise on Flamengo's popularity and encourage more people to sign up as paying members of the club. Two years ago the group received a visit from another senior figure, Jorge Rodrigues, and became an official 'consulate' for supporters living outside Brazil.
It was precisely this type of long-term, business-savvy thinking that helped Flamengo pay off huge debts over the last six years and get themselves into a position where they could get the players necessary to challenge for titles. Albeit, helped by the sales of Vinicius Junior and Lucas Paquetá to Europe.
There are now eight established foreign 'consulates' in the USA, three in Portugal and new ones opening in Belgium and France as well as established groups in Argentina and as far away as Japan.
Flamengo has always been popular but Brazilians love a winner. The London branch can count on getting decent numbers together for every match in what now looks increasingly like a Serie A victory lap on the way to their first domestic title in a decade. Flamengo are currently eight points clear of Palmeiras in second place with eight league games to go. Resounding defeats of the Verdão and now Corinthians have seen Luis Felipe Scolari and now Fabio Carille, two recent title-winning managers dismissed from their jobs while Flamengo are now 17 games unbeaten in the league under Jorge Jesus.
The big one though, is the Libertadores final on November 23rd, Flamengo hasn't been there since 1981 and the continental bragging rights are all these fans can think about.
Tiago Jackson, born in Manchester but raised in Rio, managed to get a ticket for the decider with River Plate and he is beside himself with excitement. "To arrive at the top of Brazilian football is an enormous achievement, but to get to the top of South American football is monumental," he explains. "I wasn't born in 1981 so this is the event of my life!"
Whatever the result that night, 12 thousand kilometres away, south London will be rocking to the beat of Brazilian drums.