Liverpool crowned champions after Flamengo take the world's best into extra-time
In many ways it was a classic final. Liverpool were clearly the superior side but were concerned enough by Flamengo's mobile front four not to throw caution to the wind, meanwhile the boys from Rio refused to be cowed by the greatest team on earth and knew exactly what was required to cause one of the all-time continental upsets.
The rubro-negro were playing for a chance to be immortalised in South American footballing history while Liverpool always had one eye on their next Premier League fixture, away to second place Leicester City on Boxing day back home in England.
Lincoln had 'the' chance, on 119 minutes that every underdog that stays in the hunt long enough always gets. He was in a great position on the edge of the six yard box but could only snatch at Vitinho's low cross and blaze it over the bar from close range.
The game was decided 10 minutes earlier on a Liverpool counter-attack and it was the Reds class and poise that eventually made the difference.
Breaking from defence, Henderson played a through ball that dissected Rafinha and Rodrigo Caio, whilst Pablo Mari was stranded upfield.
The Senegalese forward held off Rafinha, whose legs were tiring.
He held the ball up and squared it for Firmino, who took the time to cut back inside the desperate charge of Rodrigo Caio and calmly side foot it into an open net past a helpless Diego Alves.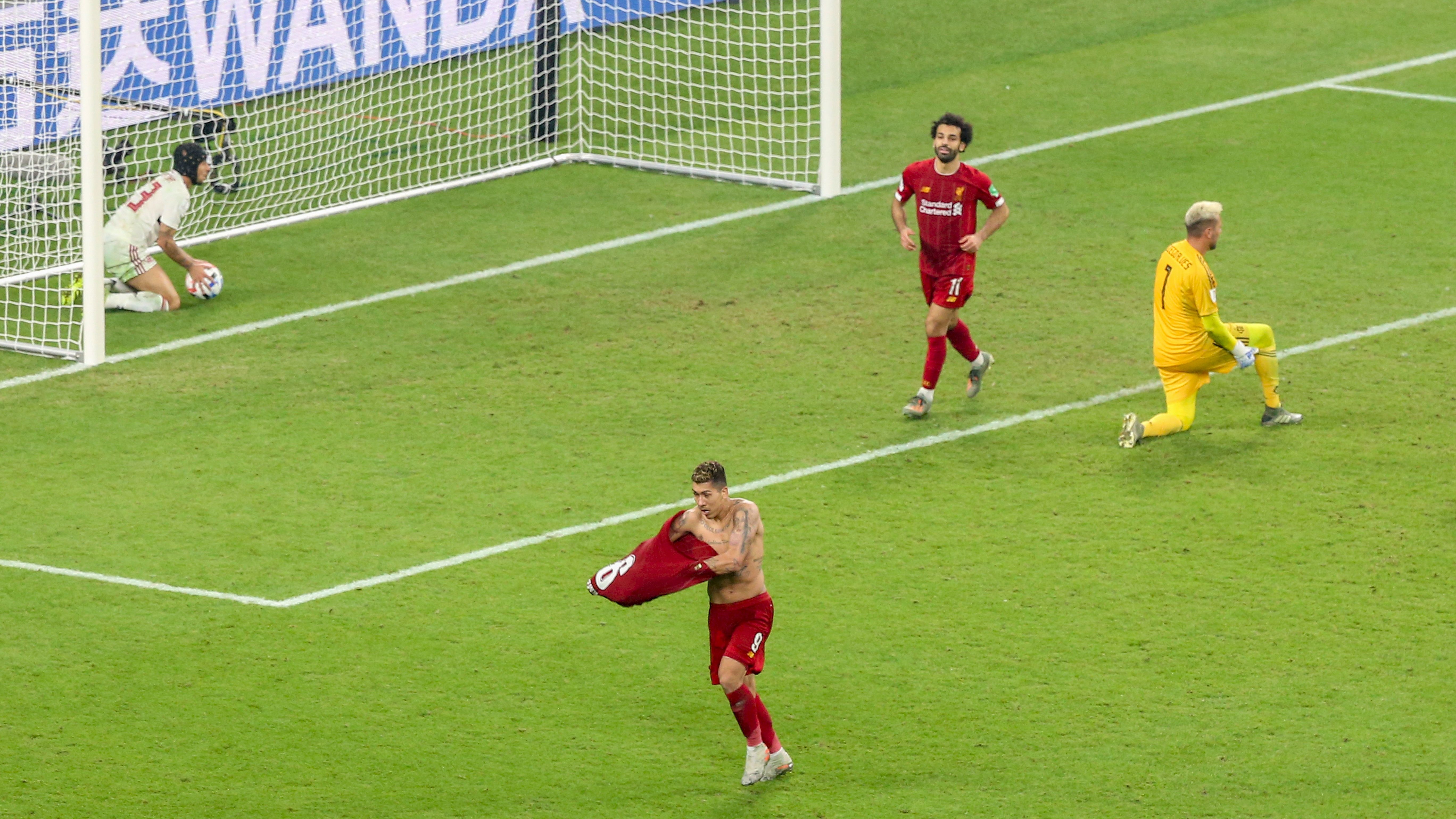 At the final whistle the Brazilians held their heads high and rightly so as they applauded their raucous fans who had travelled to Qatar dreaming of seeing a second star embroidered above the club badge on the 2020 club shirts.
If you'd given even the most die-hard of Flamengo fans an entire handful of Christmas wishes this time last year, I don't think that even they would have asked for everything that this team has been able to give them.
A dream Club World Cup final against the very team that they most wanted to play, 38 years after Zico's boys 'ran rings around the English' in Tokyo. The fans have been singing about this all season long but could never have hoped, even in their wildest football-fever dreams, that they would actually be walking out in Doha to face the best team in the world after being crowned champions of Rio, champions of Brazil and champions of South America, gaining the Libertadores for only the second time in the club's history after the most epic of comebacks against Argentinian opposition.
The script had been that well written it was almost corny.
At home they conquered almost everything before them winning the Brazilian league accruing the most points, most victories, most goals, most away wins, the longest winning run, longest unbeaten run and the least number of victories in the current format of the competition dating back to 2003.
In Gabriel Barbosa they've had the league's top goalscorer and one of the most charismatic forwards Brazil has seen for a long time, providing internet memes that have run and run and becoming an idol even to young fans of rival clubs; meanwhile his strike partner and second-top league goalscorer, Bruno Henrique, has been hands-down the best player on the continent, whilst Giorgian de Arrascaeta provided the most assists. 
All this in front of the biggest home crowds without losing a league game in the Maracana all season. They've also taken the most money for a single game and for a full season in the accrued points league format.
And in the city where Christ is an ever present figure, Flamengo have been commanded by a humble man called Jesus who, after seven whirlwind months in charge, has already gone down in history as one of the best coaches the illustrious club has ever had. The man need never pay for a drink in Rio de Janeiro for the rest of his days.
It wasn't even that they did all this at an inevitable canter either, like winning a Grand Prix from pole position. Jesus took charge on June the 1st with Flamengo 9th in the league table and would have won the league even without the 10 points Abel Braga took from Flamengo's first six games.
In the Libertadores they had to come back from 2-0 down in the last 16 against Emelec before trouncing 2017 champions, Gremio, 5-0 in the semi-final before 'that' final in Lima.
Many pundits had spoken about the huge gulf in class between the elite of Europe and the elite of South America, how Mohammed Salah is worth more than Flamengo's whole team put together, how the Brazilian side are full of European rejects and fading lights, how Jorge Jesus has come up short when facing the European elite in major finals.
Both Flamengo and Jorge Jesus can hold their heads very high after tonight.
After surviving a couple of good chances for Naby Keita and especially Roberto Firmino after 5 minutes following balls over the top from Liverpool's midfield, the Brazilians traded attacks and shared a good percentage of the possession.
Apart from that though Klopp's men were held very much at bay in the first half by a hard working Flamengo who all knew their specific roles and carried them out to the letter.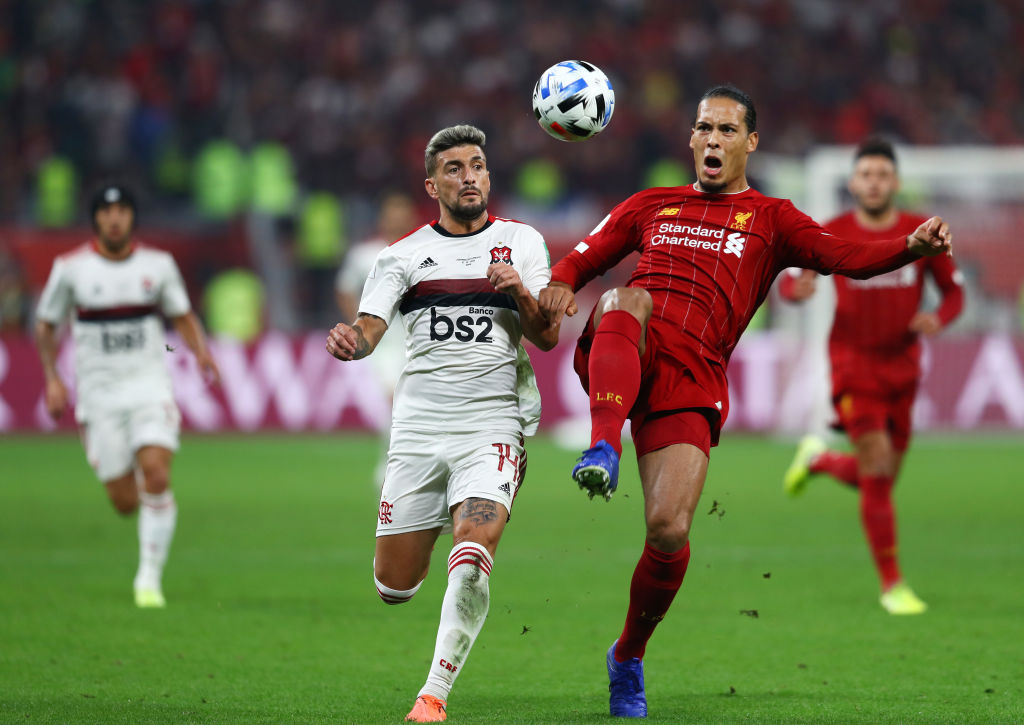 Rafinha was a calming presence at the back with all his experience and he even managed to get forward a few times to put crosses into to Liverpool's box, although nothing much came of them.
Bruno Henrique twice went close, through on goal after making incisive and pacy runs cutting in from Liverpool's right flank. He gave Trent Alexander-Arnold a real concern at right back.
Despite this, Flamengo struggled to create any chances of real quality in the opening 45 minutes as Liverpool had the pace and composure at the back to deal with anything that Everton Ribeiro or the rest of Flamengo's midfield could throw at them.
The second half played out very much like the first, Liverpool had a couple of great chances early on. The first and best of those came again from a ball over the top of Flamengo's backline, as Firmino controlled a lofted pass from Henderson with expert precision, flicked it over the on-rushing Rodrigo Caio and put himself through on goal but managed to ping his shot into the ground and against the inside of the post.
Alexander-Arnold then played in Salah with a low, driving cross but the Egyptian shot wide from 10 yards out.
After another early period of intense Liverpool pressure, Flamengo had their best period of the match and fashioned two great chances with Barbosa twice going close before Bruno Henrique charged down an Alisson clearance to create a 3-on-3 in Liverpool's box but to no avail.
For the first time Liverpool's defence looked rattled as Flamengo's front four started to find a bit of rhythm and crucially, some space in behind the Red's defence.
The game then got stretched as the two in-form teams traded attacks but you got the sense that they both knew that one slip could prove their downfall and so never quite went into all-out attack mode.
Then, as the game looked to be heading into extra-time Liverpool won a penalty for a challenge from behind by Rafinha on Mane, who was clean through on goal and denied a clear scoring opportunity.
Salah already had the ball in his hands but VAR called Abdulrahman Al Jassim to review the incident.
After watching it on the pitchside monitor the referee rescinded Rafinha's yellow and gave a drop ball. The incident was shown to be outside the area but it was difficult to see how the challenge was not a foul.
Flamengo were given a last-minute life line and extra time was beckoning.
Liverpool celebrated as Flamengo and Jorge Jesus gathered in front of their fans to thank them for their support in what has been the most impressive campaign for any South American club side since Bianchi's Boca Juniors at the beginning of the century.