How long does it take to get from Rio to Lima by bus? THE L1B£RT4D0RE5 F1NAL 1N NUMl3ER$.
1 - Non-European managers who've won a Libertadores title.
Mirko Josic from Croatia took Chile's Colo-Colo all the way in 1991. Jorge Jesus, Flamengo's Portuguese boss, is only the second European to ever make the final.
4 - Number of Libertadores River Plate have already won.
It's also the number of Libertadores won by Carlos Bianchi, the tournament's most successful ever manager, two with Boca and two with Velez Sarsfield.
6 - Assists provided by this year's 'garçom', Bruno Henrique of Flamengo.
The speedy frontman has also scored five goals, making him the Libertadores' joint 4th top scorer. In August he was clocked at 38km/h in a game against Internacional.
De acordo a FIFA, Bruno Henrique atingiu uma velocidade de 38 km/h contra o Internacional nesse lance. O atacante supera a marca de Gareth Bale, que havia alcançado 36,9 km/h e se tornado o jogador mais rápido do mundo.

UMA FLECHA pic.twitter.com/9ieG7Lo6fy — Resenha com Futebol (@RFutebol1) August 23, 2019
7 - Number of goals River Plate have conceded in 12 games this year.
Seven is also the number of goals scored by Gabigol of Flamengo, Libertadores 2019's current top scorer at 0.6 per game.  
8 - Number of goals conceded by Flamengo in 12 games this year.
9 - Club's who've won the Libertadores in the last 10 years
Estudiantes, Internacional, Santos, Corinthians, Atlético Mineiro, San Lorenzo, River (twice), Atlético Nacional and Grêmio. 19 different clubs have won it in the last 30 years.
🤔🏆 Who will be the champion of the 6⃣0⃣th #Libertadores?

🔴⚪ Will it be #River like in 1⃣9⃣8⃣6⃣, 1⃣9⃣9⃣6⃣, 2⃣0⃣1⃣5⃣ & 2⃣0⃣1⃣8⃣?

⚫🔴Or will #Flamengo lift the trophy for the first time since 1⃣9⃣8⃣1⃣? pic.twitter.com/WvclhT4nUZ — CONMEBOL Libertadores (@TheLibertadores) November 11, 2019
13 - Number of managers who've won the Libertadores more than once.
Gallardo already has two, with River in 2015 and '18 making him the seventh Argentine multiple winning boss. Four Brazilians and two Uruguayans also make the list.  
16 - Minutes it takes to get from El Monumental stadium to La Bombonera.
It was an easy semi-final journey for River Plate to their near-neighbours Boca Juniors.
17.75 - Average number of passes Palacios makes in the final third.
Exequiel Palacios is the midfielder who makes the most successful passes per game in the final third of the pitch. Way ahead of Enzo Perez:,12.18; Gerson, 9.17; and Arao 8.45. Dangerous.
22 - Goals scored by Flamengo in this year's tournament, the highest scoring team of the season.
River Plate have scored 15 so far.  
25 - Number of times an Argentine side has won the Libertadores.
River Plate will be hoping to make it 26 on Saturday whereas Flamengo will hope to pull one back for Brazil, who currently have 18 winners. Uruguay have eight, despite not winning since 1988, Paraguay and Colombia have three each while Chile and Ecuador have one. Bolivia and Venezuela are yet to know what it feels like to have a Libertadores champion team.  
31 - Years since a Uruguayan team has won the competition.
Nacional beat Newell's Old Boys in the final in 1988 but since then only one Uruguayan team has reached the final; Santos beat Penarol in 2011. It now seems a long time since the glory days of Uruguayan football, eight of the first 28 winners were from there.
38 - Speed in km/h that Bruno Henrique was clocked at in the Libertadores quarter-final.
In a match against Internacional in the Libertadores quarter-final this year, the forward surpassed the previous record, recognised by FIFA, of 36.9km/h set by Gareth Bale for Real Madrid. This makes the Flamengo attacker officially the fastest player in the world. Kind of.  
60 - Saturday's final will be the 60th edition of the Libertadores.
The first edition took place in 1960 and the final was contested between Penarol of Uruguay against Olimpia of Paraguay. Penarol won 2-1 over two legs.  
116 - Number hours the bus journey takes from Rio to Lima.
Lots of Flamengo fans are taking the bus to Lima across 6 Brazilian states before entering Peru. Some journalists are doing it too and if you can read Portuguese you can follow their journey on UOL's twitter feed. The last we heard the bus is knackered and is being swapped with another in Rondonia, in the north of Brazil.  
349 - Days River will have been champions for when they take to the Estadio Monumental in Lima on Saturday evening.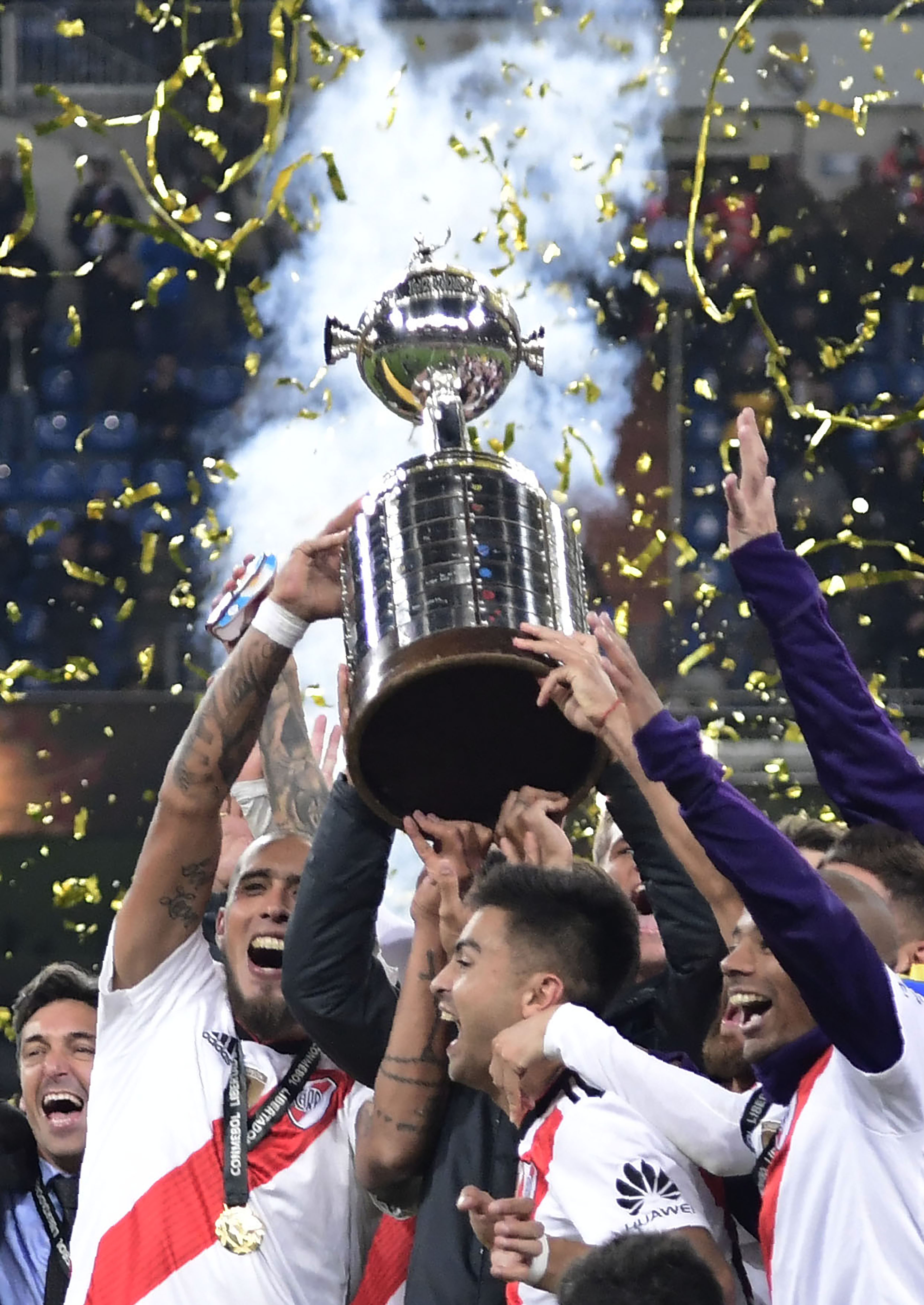 3,750 - Metres above sea-level that Flamengo played their first group game this year.
San Jose's Estadio Jesus Bernardez is in Oruro, Bolivia and is one of the highest anywhere in the world. Flamengo's players took drugs to help boost their oxygen uptake for several weeks before arriving.  
38,738 - Kilometres Flamengo will have travelled in the tournament when they return home after the final.
Their furthest round trip was 9,154km from Rio de Janeiro to Quito, in Ecuador, to face LDU. While River have put in 22,940.  
11,912,559 - Number of likes Flamengo have on Facebook.
With 6.1m followers on twitter, 5.9m on Instagram and a further 2.14m youtube subscribers, Flamengo is the better followed club on social media. River Plate have 9m on Facebook, 3.2m on twitter, 3.5m Instagram followers and 195 thousand youtube subscribers.