"As tough as it comes" Americans' stories from the Libertadores reveal the demanding nature of South America's top club competition
Jonny Walker remembers it like it was yesterday.
Walker was about to start in goal for Chilean side Colo-Colo as they came up against Argentine giants Boca Juniors in the Group Stage of the 2003 Libertadores. 
"The whole thing about the place shaking, it's true" Walker recalls. "You can feel the pressure waves coming from the people. If you've ever been around whether it's a cannon, firearm, whatever, anything like that, you feel a shockwave. You feel that coming from the people, you hear it shaking."
Shortly after kick-off, Boca pounced. Within a minute, Marcelo Delgado had them 1-0 up. After 15, it was 2-0. La Bombonera roared. 
"What have I gotten myself into?" Walker thought. "And how the hell do I get out?"
Somehow, someway, Colo-Colo dragged themselves back into the match. Marcelo Espina converted a penalty before half-time to cut the deficit to 2-1. On the other side of the break, Ignacio Quinteros volleyed Colo-Colo level at 2-2. 
Despite going a man down for the final 15 minutes, Colo-Colo hung on for a 2-2 draw. They spoiled the birthday party of the eventual Libertadores champions. 
The match was Walker's tenth, and final, career Libertadores match, a fitting end to a South American experience that saw him spend eight years playing in Chile.
"You've got to be a little bit crazy to do it, let's be honest. It's a different world."
---
Walker is a member of an exclusive group of 16 Americans who have played in the Libertadores. Many of them, including Edgar Castillo, who with 12 games played is the American with the most Libertadores games played all-time, played for Mexican clubs during their participation in the Libertadores mainly in the 2000's.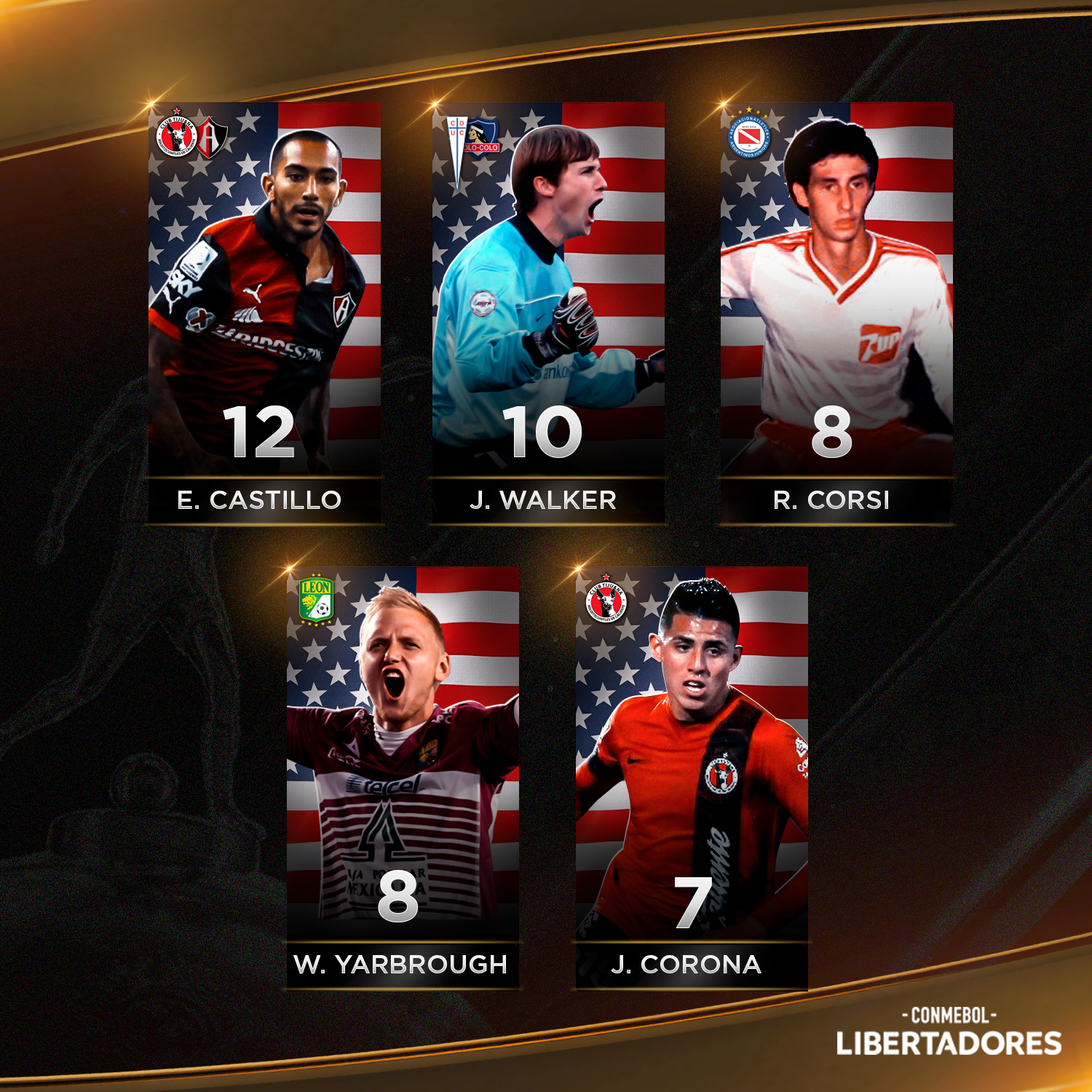 Others, like Joel Soñora, an Argentine-American who featured three times in 2019 for Talleres, and Johnny, a 19-year-old born in the States who made his Libertadores debut this year with Brazilian club Internacional, hold dual citizenship. 
---
Renato Corsi, a Libertadores champion with Argentinos Juniors in 1985, is the only American to lift the Libertadores trophy.
Corsi was born in Manhattan in 1963 before moving to Argentina at the age of three. He came up through the Argentinos Juniors youth system, the same system that produced Diego Maradonna nearly a decade earlier. Part of Argentinos' success in 1985 can be attributed to the then-massive £1 million transfer fee received for Maradonna from Boca Juniors in 1981, money used to strengthen the squad in the following years.
Corsi debuted professionally with Argentinos in 1984. On August 15th of 1985 he came off the bench as his side defeated Ferro Carril Oeste 3-1, and in doing so became the first American to appear in a Libertadores match. Later that year, he was in the starting XI as el Bicho faced América de Cali in the decisive third match of the Libertadores Final in Asunción. Corsi played all 120 minutes as Argentinos Juniors won the title on penalties.
In a 2014 interview with journalist Juan Arango, Corsi spoke of how much winning a title for Argentinos, his boyhood club, meant to him: "Really important players have played in the Libertadores and not won it. It's a great joy to have won a Libertadores with Argentinos Juniors."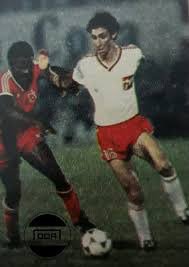 Later that year, Corsi made a substitute appearance in Tokyo as Argentinos Juniors fell on penalties to Juventus in the Intercontinental Cup. Featuring in a side that went blow to blow with a Juventus team that included footballing icons Michel Platini and Michael Laudrup was an unforgettable experience for Corsi.
Corsi would make 8 Libertadores appearances in all, with another 5 coming in 1986 as Argentinos unsuccessfully attempted to defend their title. 
Though he has spent most of his life in Argentina, where he now works representing players, Corsi has always identified as American. He takes pride in the fact that he's the only American in history to lift a major continental trophy and relishes that he's always referred to in the press as "el estadounidense" or "el norte-americano". 
While playing for Deportivo Morón later in his career, Corsi was contacted by United States Men's National Team manager Bora Milutinović about a call-up for the 1994 World Cup, set to be played on U.S. soil, but an untimely ligament tear in his knee ended his hopes of featuring for the USMNT. "I suffered a lot because I really would've loved to play for my country in a World Cup, especially one on home soil." Corsi told Arango. 
Corsi recovered enough from his injury to move to the U.S. and play for the Fort Lauderdale Strikers of the USISL (now the USL) in 1994 and 1995, finishing his distinguished career as a player in his home nation.
Right as Corsi's footballing career was ending in Fort Lauderdale, the career of another famous American Libertadores player was just beginning. 
---
After unsuccessful attempts to acquire a work permit playing in Europe, Jonny Walker was picked in the MLS Supplemental Draft by the Dallas Burn in 1996 ahead of the league's inaugural season. 
Stuck behind future MLS goalkeeper of the year Mark Dodd, Walker, who in his own words was "young and dumb" and in search of experience and playing time, accepted a move to the Jacksonville Cyclones of the A-League, then the second tier of the American professional pyramid.
Quickly dissatisfied with toiling away in the second division, Walker began chatting with a few Chileans in the organization. 
"[One guy] had all these magazines, Don Balón, El Gráfico, and I was just looking at the pictures, these color pictures, this is pretty much pre-internet, it's 1997 right? I'm like, 'that's what I want. That is exactly what I want.'"
Walker's desire soon turned into a "priceless experience" when his Chilean friends in Jacksonville helped secure him what was effectively a seven month trial with Universidad Católica. 
The first place Walker went when he joined the club was to the club library. 
"They basically take every soccer magazine that comes out and they put them in leather binders. And I would go in there and look through the pictures." 
Walker's high school level Spanish was enough for him to get by at first, with the immersive nature of constantly being around his teammates soon filling in the gaps in his vocabulary.  
"You learn the dirty words first, teammates think that's funny, and you move on from there." 
Católica loaned out Walker to fellow first-division outfit Huachipato in 1998, where he impressed. Walker returned to Católica in 1999, and made his Libertadores debut in 2000. 
In 2002, Walker started 8 matches for Católica in the Libertadores as the club reached the Round of 16 of the competition. 
Católica's first Libertadores match that year was in the Maracanã against Flamengo, Brazil's biggest club. Católica's 3-1 win with Walker starting between the sticks, was, "a big deal" and set the tone for a successful group stage campaign. 
In the Round of 16, Católica and eventual finalists São Caetano of Brazil drew 1-1 twice, with the Brazilians eventually progressing on penalties.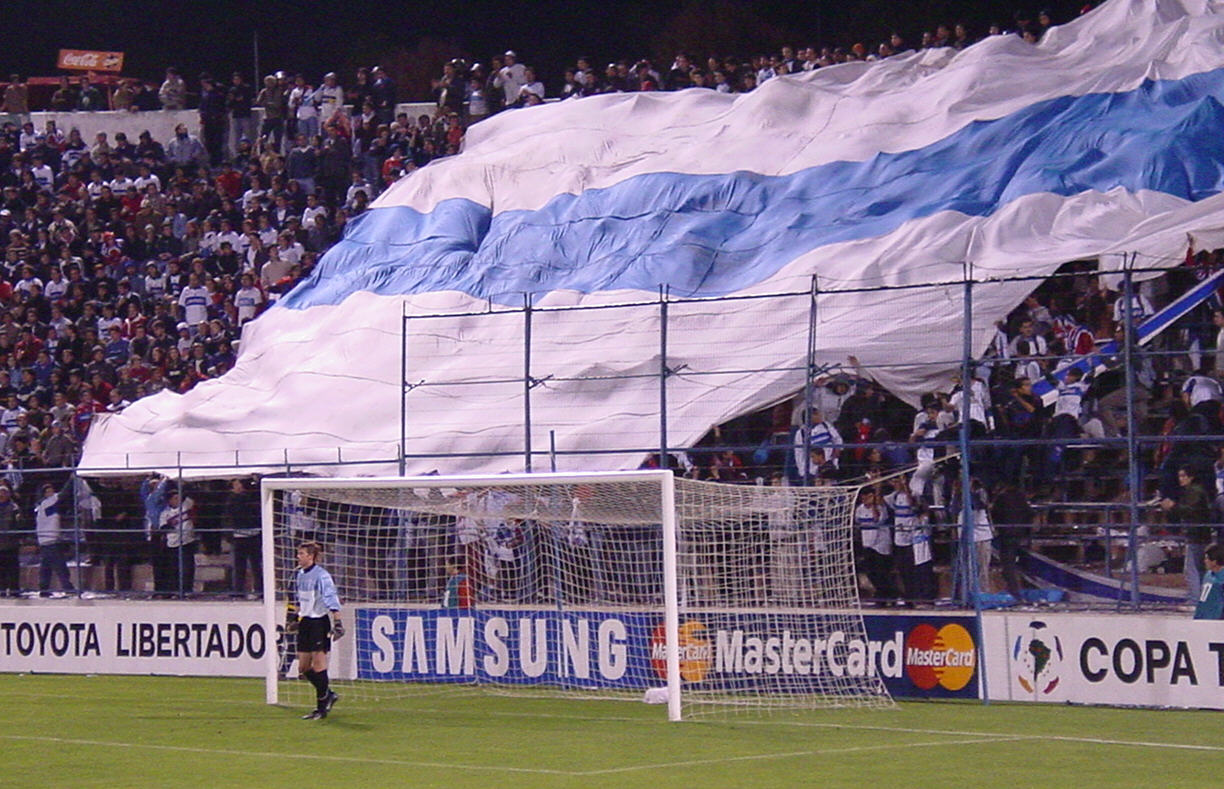 2003 saw Walker move to Colo-Colo where he featured just once in the Libertadores, on the dramatic occasion of Boca's 98th birthday at la Bombonera. Later that night, Walker and his teammates watched the scores come in from the other games in the group, confirming Colo-Colo's elimination from the competition despite the hard-fought draw.
Walker then returned to the States. He replaced the recently departed Tim Howard in goal for the New York/New Jersey MetroStars in 2003 and 2004 before closing his career with the Columbus Crew in 2005, earning three national team caps in the process.
Walker, "remembers everything about the Libertadores like it was yesterday… the week leading up to every single match, it is everything amplified and magnified. It is the reason why you have South American players who go and play at the highest level talk about regrets in their career and them not winning a Libertadores is one of them. Because you're playing for the people, you're playing for the fans and the family." 
---
Like Walker, Kyle Zenoni had no personal connection to South America when in 2008 he decided to leave the United States to join up with Bolivian club La Paz FC ahead of their inaugural Libertadores campaign.
"I had options." Zenoni remembers, "I chose to go to that environment because of how challenging it would be. The level, the players, they were good." 
Though La Paz were eliminated by Mexican club Atlas over two legs in the first phase of the tournament, which meant Zenoni only appeared in a pair of matches as a substitute, the fact that he's a member of the exclusive group of Americans to feature in the competition is an important point on his personal footballing C.V. 
With previous experience playing in both Scotland and Sweden, Zenoni was no stranger to foreign atmospheres, but the adjustment to playing at altitude, La Paz sits at 3,640 meters (11,975 feet) above sea level, was a whole new challenge.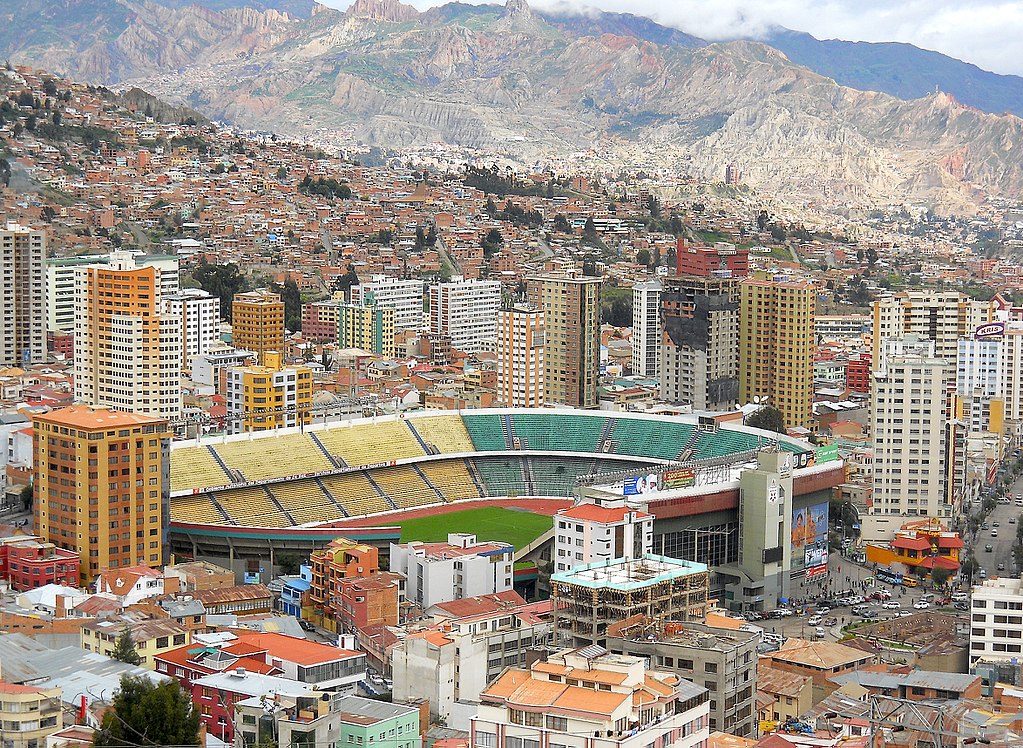 Upon arrival in La Paz, Zenoni, an "extremely fit" professional footballer, quickly came down with an intense case of altitude sickness.  
"I got a headache straightaway, and then I went through a 24-hour emotional roller coaster… It was hard."
Zenoni quickly appreciated what makes playing Bolivian teams at altitude so dangerous for opponents. 
"It's hard for teams to adjust to that altitude, and even the ball, the flight of the ball is a little different." 
Walker too stressed the difficulty of playing at the severe altitude found across the continent: "It's crazy different. Those guys are running all day and you're just [dead]. I can kick a ball a country mile, but the guys are dead after 10 minutes of running."
Walker and Zenoni are now both coaches at U.S. universities, Walker is an assistant coach for the women's soccer program at Memphis and Zenoni works in the same role with Milwaukee's men's soccer team.
While Zenoni stressed that playing in South America isn't for everyone, he also said he wouldn't hesitate to recommend it if the right player asked him for advice: "It just prepares you… It's not for everybody, but if you're good enough, and you've got thick skin and you can handle some adversity, I think it's a fantastic place to go." 
One thing fundamentally clear is that even in the United States, even for Americans who may or may not have a connection to South America, the prestige and draw of the Libertadores exists. 
"The passion that people have for the game is unreal, and I find that to be awesome… It's just what you picture when you go into a pro atmosphere" Zenoni said. 
---
For Walker, the dream of La Glória Eterna was real. At Católica, he shared a room with a teammate that had won the title with Colo-Colo in 1991, and had what he considers a real chance to have won it himself. 
"Once you've been in that atmosphere and you've had those results and you've had that taste, you want to say that you've won that… I think at least once a week [about] 2002. We were just as good as [eventual champions] Olimpia, we beat Flamengo at home and away, we were a good team! The ball goes the right way…"
At this point, Walker's voice trails off, perhaps recalling yet again the penalty shootout against São Caetano that saw his side eliminated in 2002.
After a breath, he continues, "Everybody's good. That's the thing, at that level, everybody is good, and then you're dealing with clubs with crazy history, it's no joke. It's as tough as it comes."