How to Watch the 2019 Libertadores Final: Channel Listings for Every Country Worldwide
The match, the first one-off neutral site Libertadores Final in history, will be broadcast worldwide in 223 territories on 22 different channels. Kickoff is set for 15:00 in Lima, which is 20:00 GMT.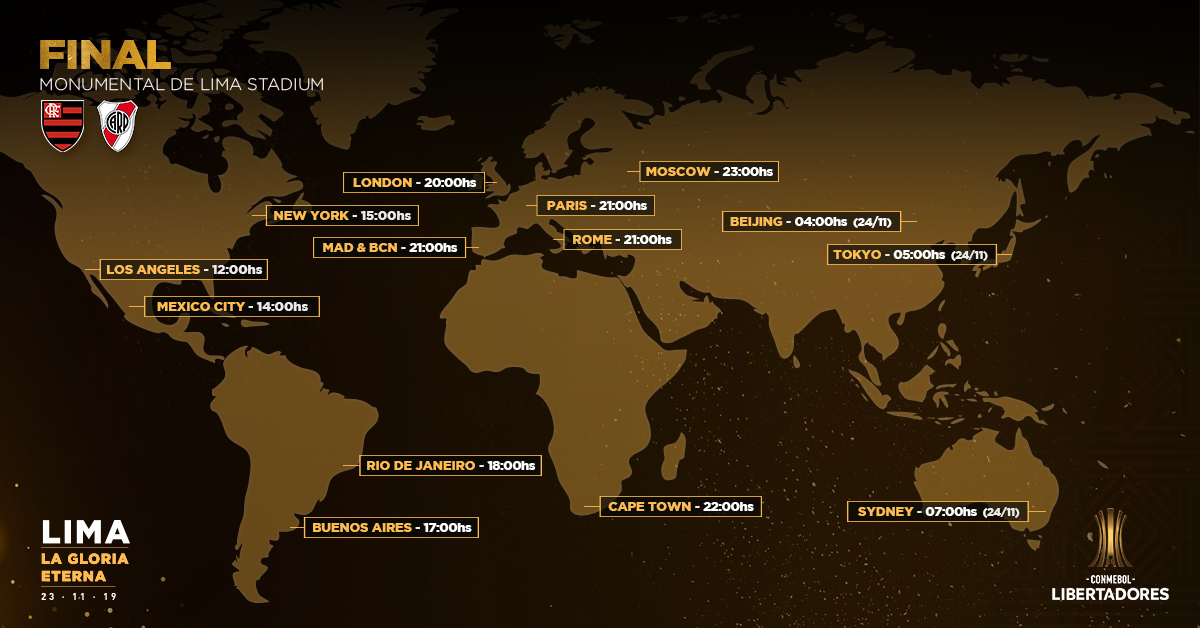 Viewers in the United States, Canada, Australia, and New Zealand, can view the Final on beIN Sports, as can viewers in another 28 territories worldwide. In the United Kingdom, the match will be broadcast on BBC 2 from 19:45 local time.
In South America, FOX Sports provides covergae for the 9 Spanish speaking countries, including Argentina and host Peru, as well as in Brazil. 
Viewers in Mexico, Ireland, South Korea and a further 78 territories worldwide can purchase the match on Payperviewaccess.com. In France and Nigeria, Canal + will have the match broadcast, while DAZN provides coverage to Spain, Italy, Germany, Austria and Switzerland.
Russian viewers can catch the game on Match TV, while those in Portugal can view it on Sport TV. 
A full list of broadcasters and countries can be found below: 
beIN Sports: United States, Canada, Qatar, Australia, New Zealand, Algeria, Chad, Djibouti, Egypt, Libya, Mauritania, Morocco, Somalia, South Sudan, Sudan, Bahrain, Iran, Iraq, Jordan, Kuwait, Lebanon, Oman, Saudi Arabia, State of Palestine, Syria, Tunisia, United Arab Emirates, Yemen, Puerto Rico, US Virgin Islands, Guam, Northern Mariana Islands
BBC 2: United Kingdom
Fox Sports: Argentina, Bolivia, Brazil Chile, Colombia, Ecuador, Paraguay, Peru, Uruguay, Venezuela, Netherlands
Payperviewaccess.com: Mexico, Ireland, South Korea, Thailand, Belgium, Singapore, Nepal, Bhutan, Brunei, Cambodia, Faroe Islands, Iceland, Aruba, Dominica, Falkland Islands, Guyana, El Salvador, Fiji, Nicaragua, Micronesia, Pakistan, Phillippines, Timor-Leste, Montserrat, Isle of Man, Kiribati, Nauru, Laos, Palau, Lesotho, Saint Helena, Afghanistan, Hong Kong, Macao, Maldives, Mongolia, Mongolia, Myanmar, Sri Lanka, Vietnam, Channel Islands, Estonia, Gibraltar, Latvia, Liechtenstein, Lithuania, Luxembourg, Malta, Romania, San Marino, Anguilla, Antigua & Barbuda, Bahamas, Barbados, Belize, Bermuda, British Virgin Islands, Caribbean Netherlands, Cayman Islands, Curaçao, Dominican Republic, Grenada, Guatamala, Haiti, Honduras, Jamaica, Panama, Saint Kitts & Nevis, Saint Lucia, Sint Maarten, St. Vincent & the Grenadines, Suriname, Trinidad & Tobago, Greenland, Marshall Islands, Papua New Guinea, Samoa, Solomon Islands, Tonga, Tuvalu, Vanuatu
Canal +: France, Andorra, Monaco, Mozambique, New Caledonia, Ghana, French Polynesia, Angola, Benin, Botswana, Burkina Faso, Burundi, Cabo Verde, Cameroon, Central African Republic, Comoros, Congo, Côte DÍvoire, DR Congo, Equatorial Guinea, Eritrea, Eswatini, Ethiopia, Gabon, Gambia, Guinea, Guinea-Bissau, Kenya, Liberia, Madagascar, Malawi, Mali, Mauritius, Mayotte, Namibia, Nigeria, Rêunion, Rwanda, São Tome & Principe, Senegal, Seychelles, Sierra Leone, Tanzania, Togo, Uganda, Zambia, Zimbabwe, Wallis & Futuna, Niger, French Guyana, Guadeloupe, Martinique, Saint Pierre & Miquelon
Eurosport: Denmark, Finland, Albania, Norway, Sweden
DAZN: Austria, Germany, Italy, Spain, Switzerland
Sport TV: Portugal, Slovenia
Arena Sport: Bosnia & Herzegovina, Croatia, Montenegro, North Macedonia, Serbia, Kosovo
Max Sport: Bulgaria
Astro: Malaysia
CCTV: China
Charlton: Israel
Match TV: Russia, Ukraine, Armenia, Kazakhstan, Kyrgyzstan, Tajikistan, Turkmenistan, Uzbekistan, Belars, Moldova
Mola TV: Indonesia
Nippon TV: Japan
PRAGOSPORT SPORT1: Czech Republica, Hungary, Slovakia
Saran TV: Azerbaijan, Turkey
SILK TV: Georgia 
ONE: Cyprus, Greece