Hoje tem gol do Gabigol? The story behind the man, name and meme that has taken over Brazil's match days
If Gabriel Barbosa Almeida finds the net tonight against their Rio rivals, Vasco da Gama, he will have scored more times for Flamengo in a single Serie A season than anyone else.
'Gabigol' currently has 21 goals in 24 league games for the Rubro-Negro (plus seven from 11 in the Copa Libertadores). The last man to score that many in a Brasileirão season was none other than Zico himself, the most beloved player in Flamengo's history.
This team is currently trying to write itself into the history books and could, depending on other results going their way, have the league wrapped up before they travel to Lima to face River Plate in the Copa Libertadores final on November 23rd.
Top scorer by some margin, the only player that could prevent Gabriel from becoming Serie A's top scorer for the second year running is his teammate and facilitator, Bruno Henrique, who currently has 16. The next man on the goal scorers' league table is Wellington Paulista of Fortaleza with 13. There are only seven games to go before the last game of the season on December 7th.
O que posso dizer? Somente reverenciar você nosso eterno ídolo! Um dia histórico e que jamais vou esquecer! Obrigado Senhor ❤️👑 pic.twitter.com/UkOG9bmXO3 — Gabriel Barbosa (@gabigol) November 10, 2019
INTO THE ARMS OF THE FANS
Arriving at Flamengo earlier this year, on loan from Inter Milan in Italy, he won over the biggest set of supporters in the country with a goal in the Maracanã, on his debut against Cruzeiro.
It was in the clássico against Fluminense in June that the year's biggest football meme came into being. Just like his nickname, it wasn't something cooked up by a marketing department, but something that happened naturally.
42-year-old Fernando Souza da Fonseca is a die-hard Flamengo fan and better known as 'Chapolin do Rubro-Negro'. One of Brazil's famous football fans, Fernando dresses up as the famous comic TV character 'Chapolin' to go to games and says he never criticises any of the players. He's often captured by pitchside cameras holding up signs in support of his heroes in red and black and at the first Fla-Flu this season he was filmed holding up the now world-famous placard, 'Hoje tem gol do Gabigol' or 'There will be a goal from Gabigol today'.
There was not a goal from Gabigol that day.
But subsequently, Gabriel went on an incredible run of 14 strikes in his next 11 league games, finding the net in every single one of them. From there the thing just snowballed as Jorge Jesus then took over as manager and Flamengo romped to the top of the championship.
The slogan, which has its origin on the terraces was in turn embraced by them, sustained by a striker in the form of his young life and then amplified by a nation who are as crazy for social media as they are for football. This Flamengo team and the goals of Gabigol are providing a welcome distraction from real life and allowing Brazilians to feel good about their national sport once again, after a rather disappointing decade.
Chapolin cravou o gol do Gabigol pic.twitter.com/IQK9c8rfWq — Wesley Ramon (@_ramonwesley) July 28, 2019
GABRIEL WITH A DIFFERENCE
The 23-year-old forward from São Bernardo do Campo on the outskirts of São Paulo has been better known by his nickname ever since he tore up the youth team leagues as boy at Santos. His mates from futsal gave him the name, partly because of his prolific scoring record and partly to distinguish him from the other Gabriels in the team. His family claim he scored over 600 goals for the Santos junior sides before making his debut in the 1st team, against Flamengo, at the age of 16. Coincidentally, this was also Neymar Jr's last game for Santos before heading to Barcelona. The adolescent Gabriel had to live up to the ever-present comparisons to his friend and idol, who, in turn, has often been touted as 'the next Pele'. The pressure from the fans and the media, as ever, placing an unnecessarily heavy burden on these young men.
Right from the start, Gabigol felt up to the task, though. In his third appearance off the bench against Grêmio, with his team one goal behind, he pleaded with captain Edu Dracena to let him take the crucial spot-kick. Seniority prevailed however, and he had to wait until his first start for the club, eight weeks later, to mark his first in professional football.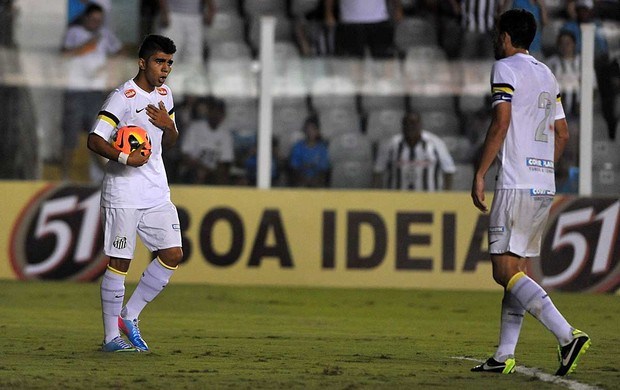 Confident but humble and showing a maturity that belied his age, Gabriel asked journalists to stop referring to him as Gabigol when he reached the senior team, but he had already put his nickname out on social media and it had stuck by that point.
After scoring 10 goals in 22 games for the Brazil youth sides he was called up to the Olympic squad for Rio 2016 scoring six in the friendlies leading up to the tournament and a further two as Brazil won the gold medal for the first time in their history.
RIO REDEMPTION
Following the Olympic Games, Gabriel was signed by Inter Milan and found out the hard way that just as much as they like to build you up, they love to knock you down. A difficult couple of seasons in Italy and then on loan at Benfica in Portugal saw him make just 15 appearances over two years, finding the net just once for each club.
Journalists and fans criticised his finishing and joked about his ballooning weight saying he was unfit to use the moniker that his childhood friends had given him all those years ago.
It didn't take him long to silence those critics.
Returning to Santos on a season-long loan in 2018 Gabigol was back in business and he was top scorer in last year's edition of the Brasileirão, finding the net 18 times.
Now, Gabigol's 39 in 47 appearances for Flamengo have caused huge interest in the player, whose contract with Inter Milan expires on December 31st. The
Nerazzuri
are intent on selling him and have a deal set out in principle with Flamengo who wish to buy the player for €20 million plus bonuses, but this has yet to be finalised. '
O mais querido
' will have to compete with a host of foreign clubs for the signature of Gabriel 'Gabigol' Barbosa, who currently holds all the cards.