Group B Preview: Players To Watch, Young Talents, Style of Play
---
Palmeiras
---
Palmeiras have not won the Libertadores since 1999, but with a strong squad and five-time Brazilian champion Vanderlei Luxemburgo now back for his fifth spell in the dugout, there are renewed hopes that 2020 will be the year that Verdão finally repeat the feat.
Luxemburgo has had a hugely successful career, winning the Copa América with Brazil and a slew of club titles. In previous periods at Palmeiras, he led them to four São Paulo state titles and two Brazilian Série A trophies. But he has never tasted glory in the Libertadores and many believed the chance might have escaped him when he spent almost two years out of work from 2017 to 2019. Now, aged 67, he has another shot at the title.
Skilful winger Dudu is without doubt Palmeiras' key man if they are to go deep into this competition. Earlier this February he played his 300th game for the club and his creativity and constant goal threat have made him into an idol on the terraces. Ex-Brazil international Felipe Melo now forms an intimidating centre-back partnership with Paraguay's Gustavo Gómez and former Chelsea man Ramires will be tasked with running the show from midfield.
Palmeiras have also produced some fine young talent in recent years and Luxemburgo will almost certainly give opportunities to teenage winger Gabriel Veron, the star of last year's U17 World Cup. Further back, 19-year-old midfielder Gabriel Menino and Uruguayan left-back Matias Viña, a new addition from Nacional, will be others to keep an eye on.
Interestingly, Palmeiras have now installed an artificial pitch at their Allianz Parque stadium, creating a potential extra advantage in home games.
---
Bolívar
---
Lung bursting altitude is where the conversation starts with La Paz's Club Bolívar. In the 2020 Libertadores, the Bolivian giants hope that's not where it ends. Handed a rather favorable group stage draw, Bolívar will look to use the altitude of La Paz, 3,640 metres (a shade under 12,000 feet) above sea level, to trigger a strong group stage performance and after that another dream knockout run, like in 2014 when they were Libertadores semifinalists.  
2019 Bolivian Apertura champions, Argentine manager Claudio Vivas has taken the reigns and if the early results are any indication has his side playing an exciting, if not defensively sound, brand of football. Bolívar have scored three or more goals in five of Vivas' eight matches in charge, while seven of the eight have featured three or more goals in total. 
Argentine striker Marcos Riquelme is a proven goalscorer who also happens to be on a torrid run, key to Bolívar's hot scoring start to 2020. Riquelme's tallied 9 goals already in 2020, highlighted by a hat trick in a 5-2 win against San José and a brace in an enthralling 5-4 win over The Strongest. Riquelme bagged 27 goals in 2018 and another 13 in the first half of 2019 before a brief move to Chile that saw him score just once in the latter half of 2019 for Universidad de Chile. 
Juan Carlos Arce joins Riquelme in the attack. A Bolivian national team fixture, Arce scored 18 times in the league last year, matching his total from the 2016-17 league campaign. The ability of Arce and Riquelme to play with and off of each other will be key to Bolívar's ability to unlock opponents at home in the Libertadores. 
Away from home, the defense that has struggled for consistency so far in 2020 will often find itself under heavy pressure. Erwin Saavedra is more known for his ability to go forward on the flank, but along with Luis Gutiérrez is the only consistent starter in defense so far for Vivas. Goalkeeper Guillermo Vizcarra, who spent much of last year as the backup in net, will need to find consistency if Bolívar are to truly threaten sides away from home, a critical part to Bolívar's chances of advancing.
---
Tigre
---
One of the Argentine Superliga's most fascinating stories last season, Tigre managed to qualify for the Libertadores despite suffering relegation to the second tier.  Despite a late charge, El Matador couldn't escape the promedios – Argentina's relegation system based on the average points over three seasons – but continued their good form to triumph in the inaugural Copa de la Superliga and return to the Libertadores for the first time since 2013.
Manager Nestor Gorosito has stayed on at the club despite the relegation and once again leads them in the Libertadores, just as he did in 2013, and veteran midfielder Martin Galmerini is another survivor of the team that finished as runners up in the 2012 Copa Sudamericana.  Indeed, experience is the name of the game when it comes to Tigre.  Gerardo Alcoba (35) and Nestor Moiraghi (34) marshall the defence, while Jorge Ortiz (35) and Sebastian Prediger (33) bring plenty of knowhow to the centre of the park.  Fan favourites Diego Morales (33) and Carlos 'Chino' Luna (38) can still provide a much-needed spark and new signing Emanuel Dening (31) has been in good form in front of goal this season.
Although there were some inevitable departures after relegation, namely Lucas Menossi, Walter Montillo and top scorer Federico Gonzalez, the return of Juan Ignacio Cavallaro will add some more dynamism going forward and Uruguayan loanee Fabricio Dominguez add some much needed youthful impetus to the side.
The draw provides an interesting rematch in the form of Brazilian giants Palmeiras.  In Tigre's only appearance the two clubs duked it out in the same group, with Tigre even claiming a historic 1-0 win in Victoria.  Furthermore, Palmeiras are also one of the most notable clubs to have participated in the Libertadores despite being in the second tier, providing another layer to their encounter this year. 
As Argentina's lowest ranked club in this year's Libertadores, expectations may not be too high but Tigre's inclusion will certainly add to the romanticism and unpredictability of the Libertadores.
---
Guaraní
---
Traditionally known as one of the strongest and most popular teams in Paraguayan football history, the Aborigen come to this competition with a lot more to prove, despite having to go through a trio of grueling ties that saw them eliminate powerhouses Corinthians and Chilean side Palestino.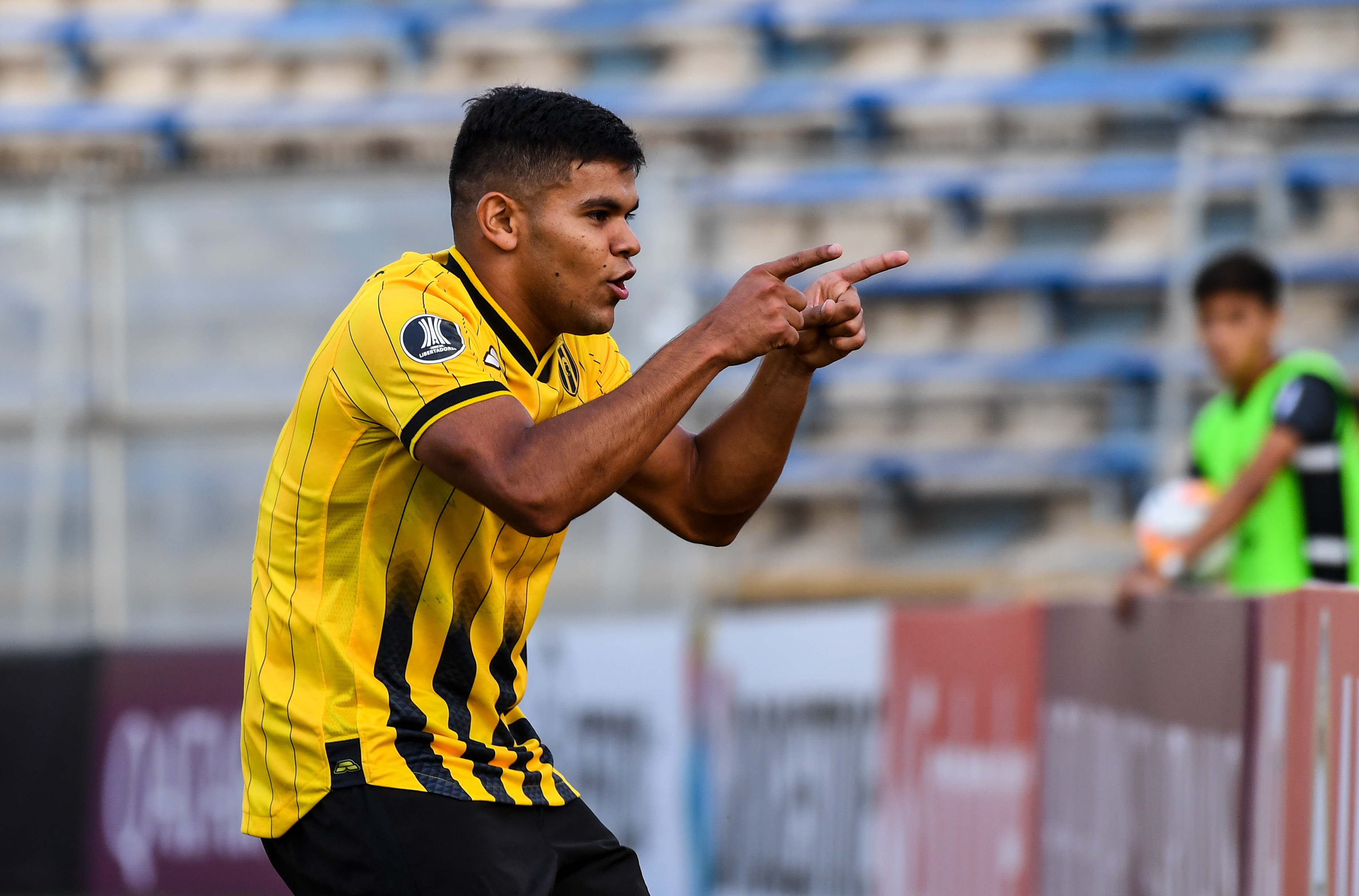 Despite being overtaken by Libertad as the nation's third most popular team, Guaraní still possesses plenty of tradition. Guaraní will hope to repeat their feat from 2015 where they unexpectedly went to the semifinals of the competition 
Gustavo Costas, an Argentine who has had stints in Paraguay with clubs like Olimpia and Cerro Porteño will look to challenge in the league and also see how his side can fare in South America's premier club competition.
The players to watch on Costas' side will include some familiar names from that 2015 squad, starting with Fernando Fernández, who eliminated Corinthians with his game-winner in 2015 and again in the second stage of this competition's edition. Alongside Fernández, there is a lot of youth on this team which includes Jorge Morel, who has already been capped at the national team level and Rodney Redes, a young midfielder with bags of pace and an eye for goal that seems to be among some of the brightest talents that the country is producing as of late. Redes has already scored three times this Libertadores, making him one to watch.
Full previews of other groups as well as more information on the panel of experts can be found here.