Germán Cano: "I've found my place in the world; I'm enjoying it"
More often than not when Germán Cano shoots it ends up in the back of the net. His goal in the CONMEBOL Libertadores against Palestino wasn't just another to add to the collection but instead marked his 92nd for the team. At the weekend in the Colombian league Cano scored number 93 to become the outright record holder for the most goals scored at Independiente de Medellín. He joined DIM in 2012 but in 2014 moved to Mexico. In 2018 Cano returned to create history - and now he's done that.
- Making your debut in the Copa and you equal the goal record. How did you feel about the match in Chile?
- It was our debut in the Copa and it went really well. We came away with a positive result. It's difficult to score goals as the away side and thankfully, with that goal, I was able to reach 92 goals for DIM and get closer to holding the record. Personally, I'm happy and proud to be part of the history which has been around for over 105 years.
🙆‍♂️ This got the party started in Medellín! Germán Cano made it 1-0 to @DIM_Oficial with this strikepic.twitter.com/tOXlaaImbW — CONMEBOL Libertadores (@TheLibertadores) February 7, 2019
-  Who sent you messages after the match? 
-  Everyone. It was a very nice moment. A lot of things were going through my head. I'm very happy.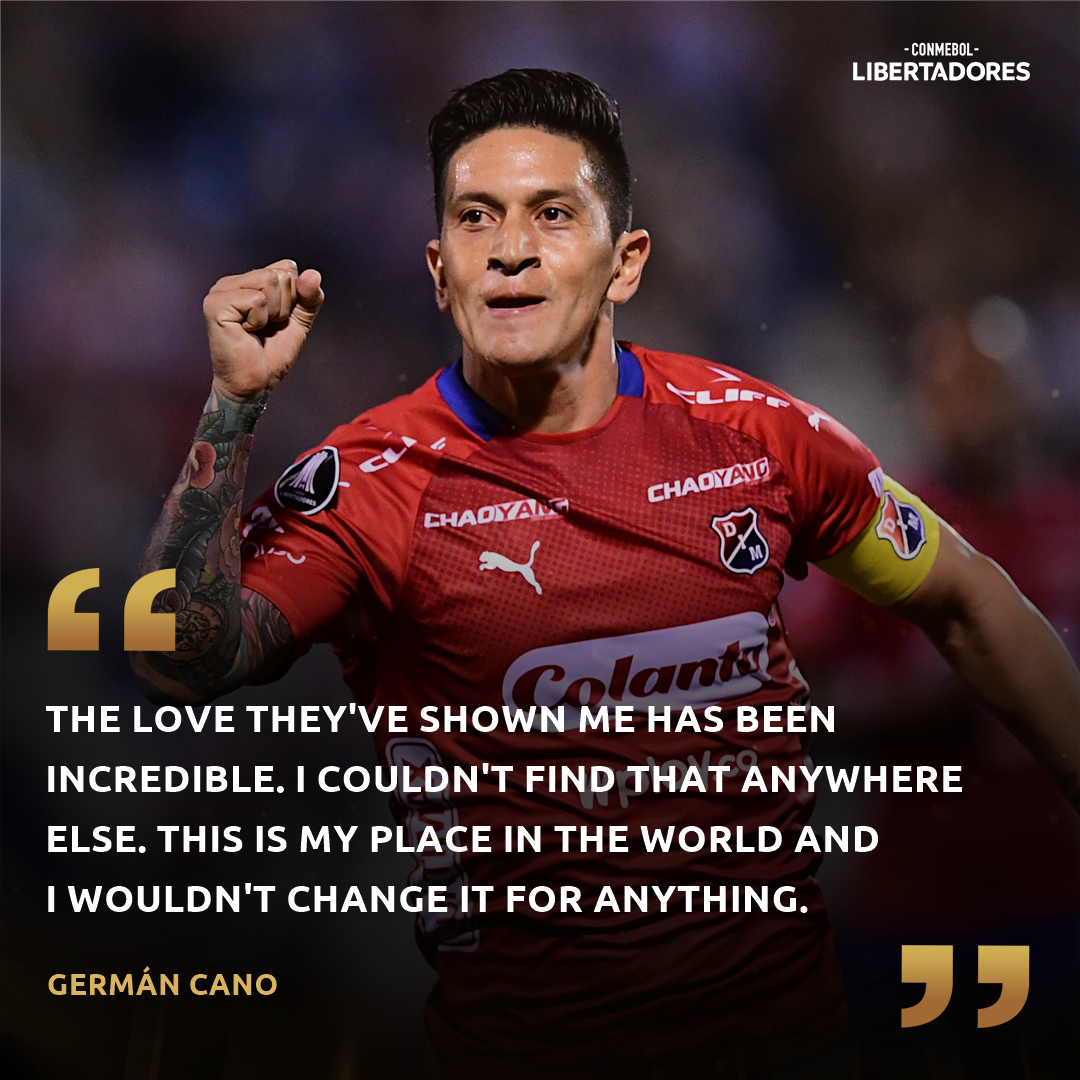 -  Give an example of what was going through your head.
- I looked back over the last two and a half moments and I was 25 goals away from the record. Today, if I think about it, everything has moved so quickly. To have scored that goal and that it would be my 92nd for this club.. It's very nice. Sometimes I said it was impossible but, in life, you never know. I did it at the team which I love the most.
-  Did you remember the moment when you found out the record was 92 goals?
- Yes, when I arrived to Medellín in January 2018. I was in Mexico, with Pachuca, and when I returned to the club in January I needed 40 goals to match Vicente Grecco's record. I said: "No, it's impossible." And I left it that and didn't think about it at all. "If it happens, it happens. If it happens this year, great, but at some point in my career I would return to Medellín and do it." I never imagined I would score 34 goals in 2018 and come so close to that record. I couldn't believe it. But yes, I was one goal away from being in the record books. When I returned I was the sixth top scorer in Medellín's history.
-  Who told you (about the record)?
- A journalist, who later sent me a photo. It was a list of players with the most goals and I was sixth.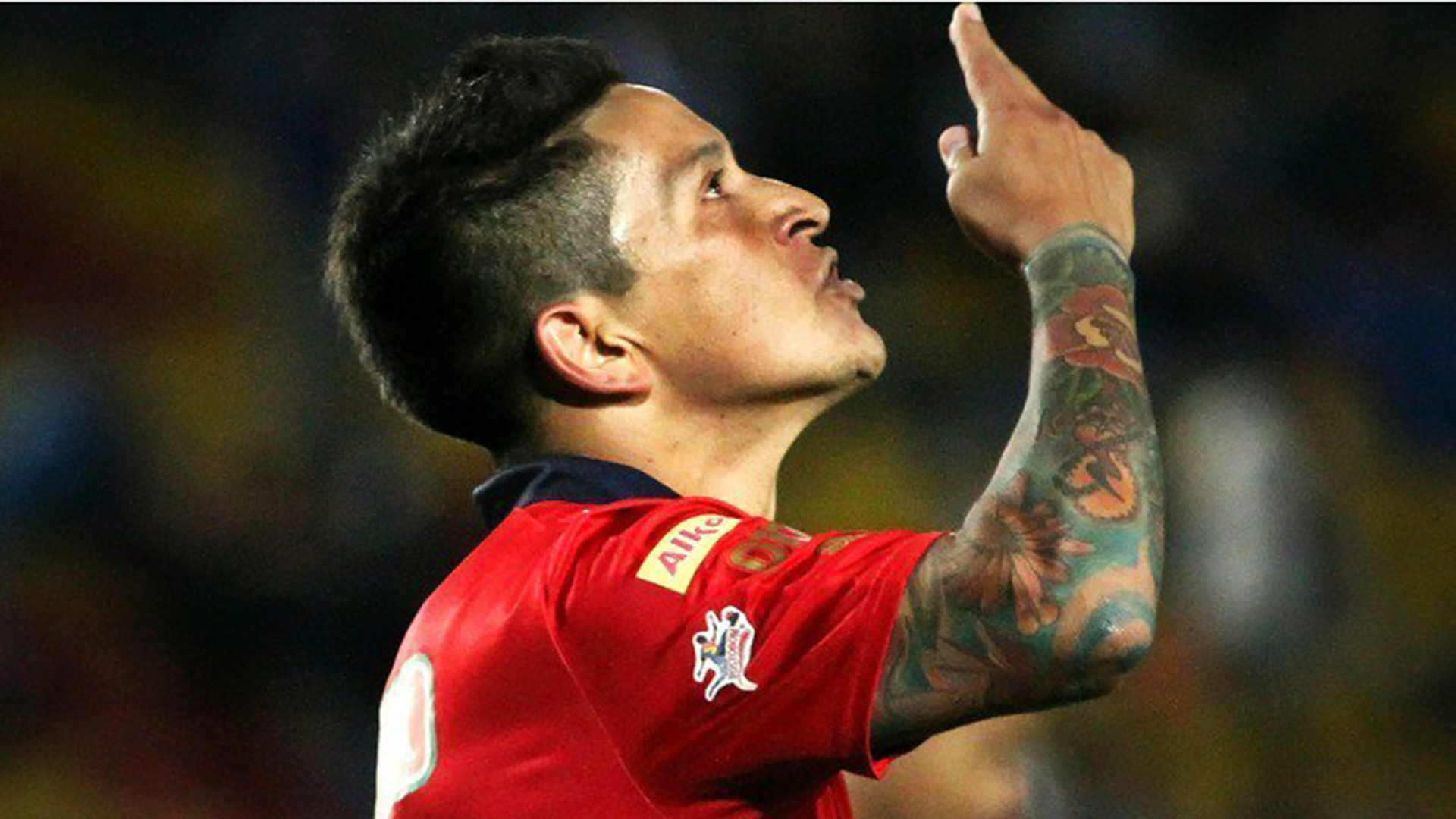 In all the photos of Cano you see something different but the majority are of him celebrating a goal. He's always celebrating with his 'L' gesture - which is for his son Lorenzo - looking up at the sky and screaming. That's because there aren't many matches in which he doesn't get his name on the scoresheet. At Independiente Medellín, he averages a goal every game.
- And at DIM your goal per game ratio is incredibly high: 0.60 per game. That's crazy. 
- With those types of numbers I have to play for the national team. (Laughing)
- Right?  
- Yes, if you want to look at those numbers it's crazy. Right now I have five in five. Five matches, five goals. Four in the league one in the Copa.
- You joked about the national team but don't you think it's a real possibility?
- No, that would be crazy! In another life, maybe. (Laughing) With all the players available it's impossible. I won't even think about it because it's impossible.
- After playing for Lanús, Chacarita, Colón, various clubs in Mexico, it feels as if with DIM you've found your place in the world...
- Yes. Medellín opened their doors to me when I was nobody. I'm always very grateful for that. The love they've shown me is incredible. I couldn't find that in any other place in the world, it's something special. I'm enjoying the moment and try to stay calm. I feel like this is my place in the world. That won't ever change. I'd always chose Medellín over money and other things which can happen in the world of football.
- Do you like the city as well?
- It's a very organised, very looked after city - with lots of vegetation. The people are super friendly. It's called the city of eternal Spring because it's never cold. That's something I like because it doesn't happen in many places. It's an incredible city. I feel part of the community. Lorenzo, my son, was born here. The city and its people have a certain charm about them. 
- How do they follow football there, say, in comparison with Argentina?
- It's totally different, especially in Mendellín. Imagine that around the Atanasio Girardot stadium there weren't any wires.There's just the audience and the pitch. Imagine. It's very different. Here, in Colombia, it's a lot more relaxed and peaceful. You can enter the stadium with the shirt of any side you want and no one would say anything. Nothing at all. There are rivals but not to the extreme of some Argentine sides, who feel a different kind of passion. It's tactical football, dynamic, which continues to grow. The national team is adding a lot more prestige to the local teams across Colombia. When I played the clásico here (DIM vs Atlético Nacional), nothing happened. Half was Medellín, half was Nacional and nothing happened. There were mixed in together. 
- Do you feel more comfortable with that than in Argentina?
- Yes, I'm relaxed. I don't want to be insulted because I've suffered enough of that. I've found my place here. It's very difficult to do that but Medellín opened its doors to me. I'm grateful.
🔵🔴👏 #HISTOR14 | Uno es de donde se sienta completo, de donde el himno le llegue hasta los huesos...soy el goleador histórico del equipo de mis amores...

🎥 @Cultura_DIM | #DIMOficial pic.twitter.com/mar2Gbzbhu — DIM (@DIM_Oficial) 11 de febrero de 2019
- What happened at the start of the year. Were you close to leaving?
- Yes, I had a lot of offers but we reached an agreement on the money side. The idea was to stay and beat the record, to make history. That was something I needed to do. You balance things out and in the end it weighed in favour of Medellín.
- What can we expect to see from DIM in the CONMEBOL Libertadores?
- We can have a great Copa Libertadores if we maintain the form we showed last year, especially in the second half of the season. We can achieve great things. We've got fantastic players who can make the difference. It's about tightening up in defence so we can close out matches. Medellín can qualify for the Group Stages if we do what the coach asks of us. We believe we can be a force.
- Have you looked at the group you could be in? The current champions are in there...
- Yes, River, Internacional and Alianza Lima. We're screwed. (Laughing) But we go step by step. For us the biggest match is on Tuesday against Palestino. Afterwards, we'll see.