Gabigol: From the favela to Flamengo.
By: Marcio Porto & Raisa Simplício 
Neymar's last game at Santos was May 26th, 2013, a 0-0 draw with Flamengo in the Brazilian first division, a match played at the Estádio Mané Garrincha in Brasília. It lacked goals, but not tears in the farewell for a player beloved by the Santos faithful on an unforgettable afternoon for Santos fans. Among those fans, a 16 year-old kid, watching on full of anxiety. At 16, Gabriel Barbosa was to debut as a professional as Neymar's replacement, a passing of the baton if you will, as the new "Menino da Vila". Gabriel, already known as Gabigol at that point, entered in the 68th minute as Neymar's replacement. He didn't leave his mark on his debut match with a goal, but he began an upward trajectory of success at the club.
Now, nearly six years after that fateful afternoon, Gabriel is on the other side. Today, he plays for Flamengo, where he is a top goalscoring threat, hoping that this will be the year Mengão will return to Copa CONMEBOL Libertadores glory. The club from Rio de Janeiro, whose fans are proud of its humble beginnings, is home to another son from the Brazilian perifery. 
Gabigol was born on August 30th 1996 in São Bernardo do Campo in São Paulo. He was raised in the lower class neighborhood of Montanhão. Eary on, he had to deal with the effects of poverty, the death and syntoms of violence. But he always had a football in his arms. "Obviously I never lacked anything, but I lived in a dangerous place. Things happened that were difficult to deal with. But when I was 8 years old, I could go to Santos, and things started to get better", he said in an interview with copalibertadores.com
Gabreil is quick to talk about his childhood. He laughed, but lived a life far away from what a child deserves to live. Because of the violence in his neighborhood, it was not just the defenders he needed to dodge. "Thankfully nothing happened with my friends, but we'd have gunfights close. I think it scared my parents. I was quite little, but I stayed calm, there wasn't much I could do. We would get unde the sofa, or the table", he remembers.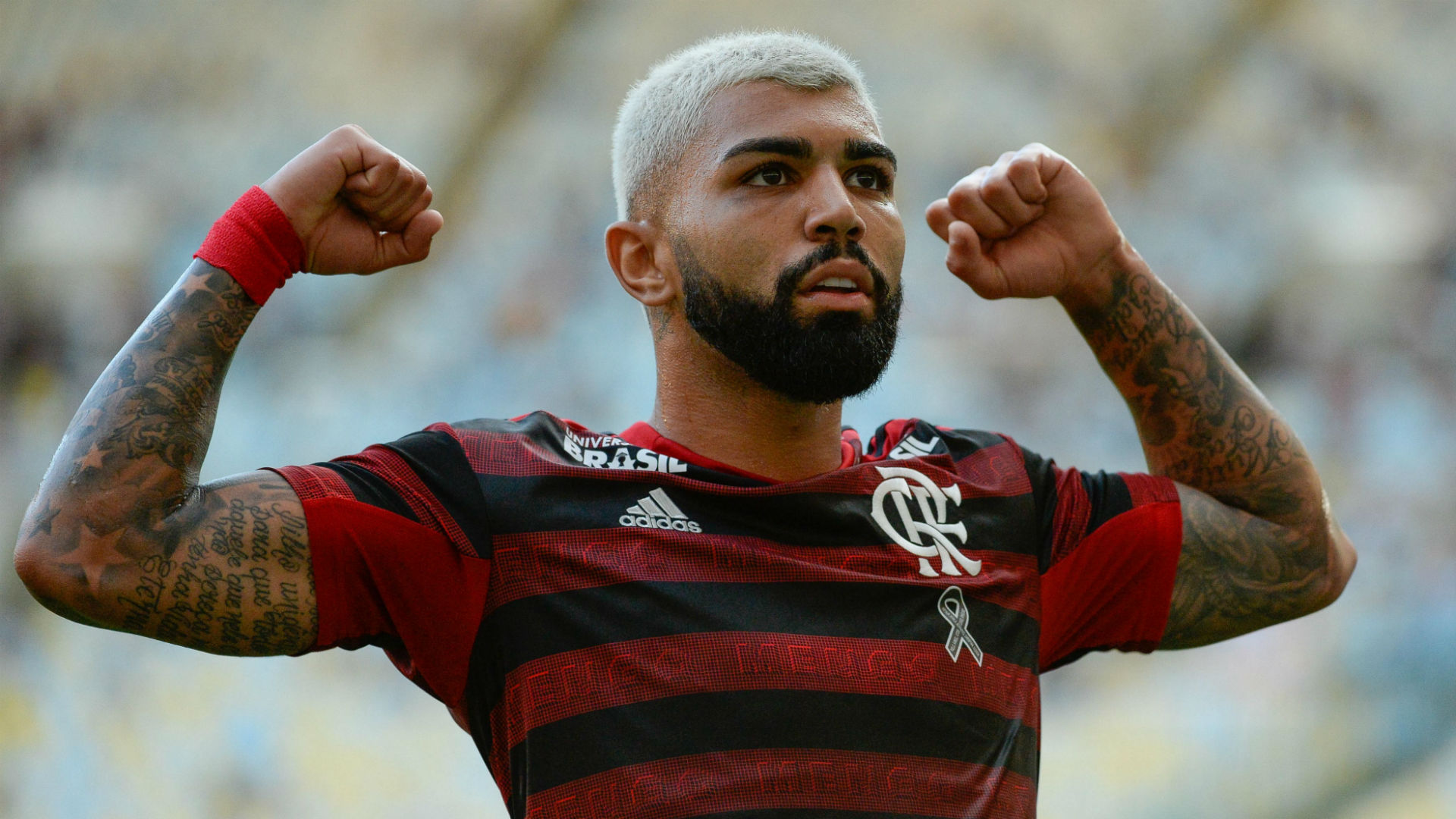 When he wasn't under the table or sofa, Gabriel was on the small field that was near his childhood home. That was where he started the journey to becoming "Gabigol". He says that he scored nearly 600 goals before becoming a professional. When he moved to Inter Milan in Italy in 2016, he received comparasions to the famous Adriano Imperador. 
At 22, Gabriel collects goalscoring honors, as he nears his 100th career goal. He scored 84 in a Santos shirt, where he was three times top scorer in the Copa do Brasil (2014, 2015 & 2018). Last year, he was also the top scorer in the Brasileirão, when he became the first player to lead both the Brazilian league and cup in scoring in the same year. 
In Rio, he's already scored 8 times for Flamengo in 11 games. He's put 2 goals in the back of the net for the Brazilian national team, plus 2 for the Olympic side in 2016, when he helped Brazil win their first football Olympic gold medal. The low point of his career was his stint in Europe, where he picked up just 2 goals, one for Inter Milan, and another for Benfica. He rarely played in 2017, lost his spot in the national team rotation, and failed to make the World Cup squad. He returned to Santos, made headlines again, and now plys his trade for Flamengo, on loan from Inter Milan until December.
He wants a title. "I always say I want to win, and I mean it. I'm incredibly hungry to win, to leave the Maracanã happy, to leave our fans feeling happy too. I don't need to be the top scorer, to score all the goals. Sure, when the goals come, it's much better, but what I want most is to win, to leave the stadium happy."
At Flamengo, Gabigol has already established a strong relationship with the fans. In the Libertadores, he's scored twice, against San José de Oruro and LDU. When he scores at the Maracanã, it's like he's under a spell. He explains the strength of the biggest fanbase in Brazil. "Whenever I play at the Maracanã, I look at our fans and see that they're different. I always made it clear that one day I wanted to play for Flamengo because of them. It's a massive fanbase, all of the matches are full, and this makes you want more, to leave these people happy. They cheer you on, and motivate you, obviously. It's really nice, I'm quite happy with their support. I've started well, and I hope that I can score many goals to celebrate with them."
Gabriel began his professional career, playing for Santos against Flamengo, on an afternoon that was truly Neymar's. Now, he fights for glory on the other side, now totally engulfed in the red and black. 
❤🖤 In an exclusive interview, @Gabigol tells us his story. From his upbringing in São Bernardo do Campo to his time now with @Flamengo_en, and his ultimate dream to lift the #CONMEBOLLibertadores trophy. pic.twitter.com/rpOpPiKGWd — CONMEBOL Libertadores (@TheLibertadores) April 1, 2019
More from our interview with Gabigol:
When you score, it sometimes looks like you don't know where to go at the Maracanã.
I'm still getting used to it! It's different from the Vila Belmiro, where you have a much smaller space to celebrate. I always try to go close to the fans, also to my family members who might be there. It's been a great start and I hope that there's plenty more goals to celebrate with the fans.
Tell me about that process. After you score, what goes on in your head?
To score a goal is an incredible thing. To see a sea of people celebrating with you, to know that your team is happy with you. To smile after that is a natrual thing, I don't know what else to say.
How would you rate your partnership with Bruno Henrique, who you've known since you played together at Santos?
He's awesome. We got really close last year at Santos, not just on the pitch, but off it as well. He was going through a tough moment, and I was there for him. He's a player that I always wanted to play with because when I was in Europe, he was pretty much the best player in Brazil. I watched his games, but I didn't know him, or his family at all. And now, we're practically family, becasue I'm pretty much always at his house. As I said, I hope that we continue to be happy together.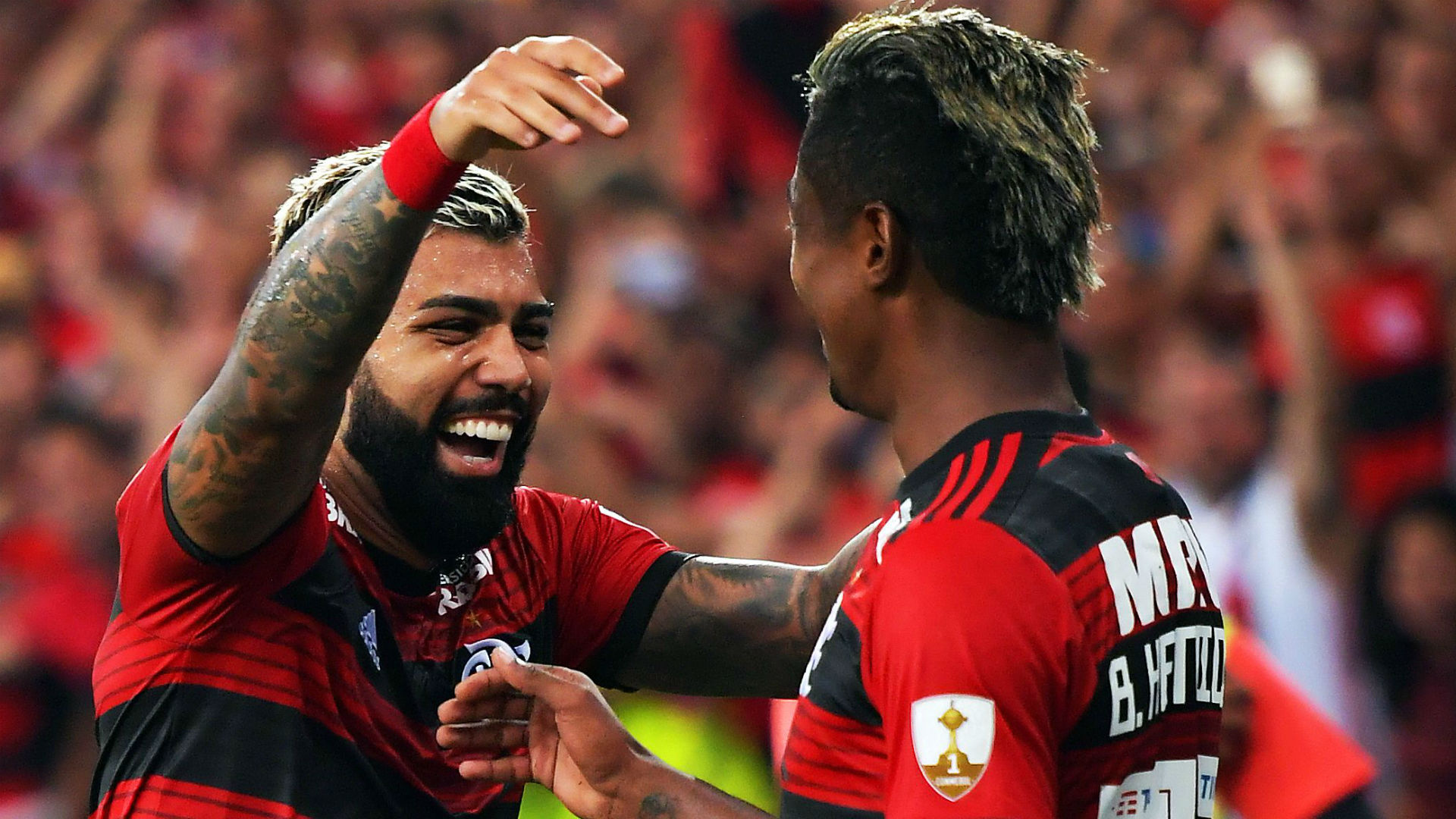 You always said that Diego was your idol. What's it like to play with him?
It's... I always said that seeing him was incredible, and now I'm seeign him up close every day. He's an example for everybody. It's incredible to play with him, with somebody like Everton Ribeiro.
Do you have a particular moment you remember about idolizing Diego?
I told him this the other day, but when I lived in São Bernardo, they were staying at a hotel in Santo André, and my dad took me and put me on his shoulders so I could see them. I saw him, Robinho, Elano. Elano gave me his autograph, and I played with him too. I always watched Diego and I'm a huge fan of his.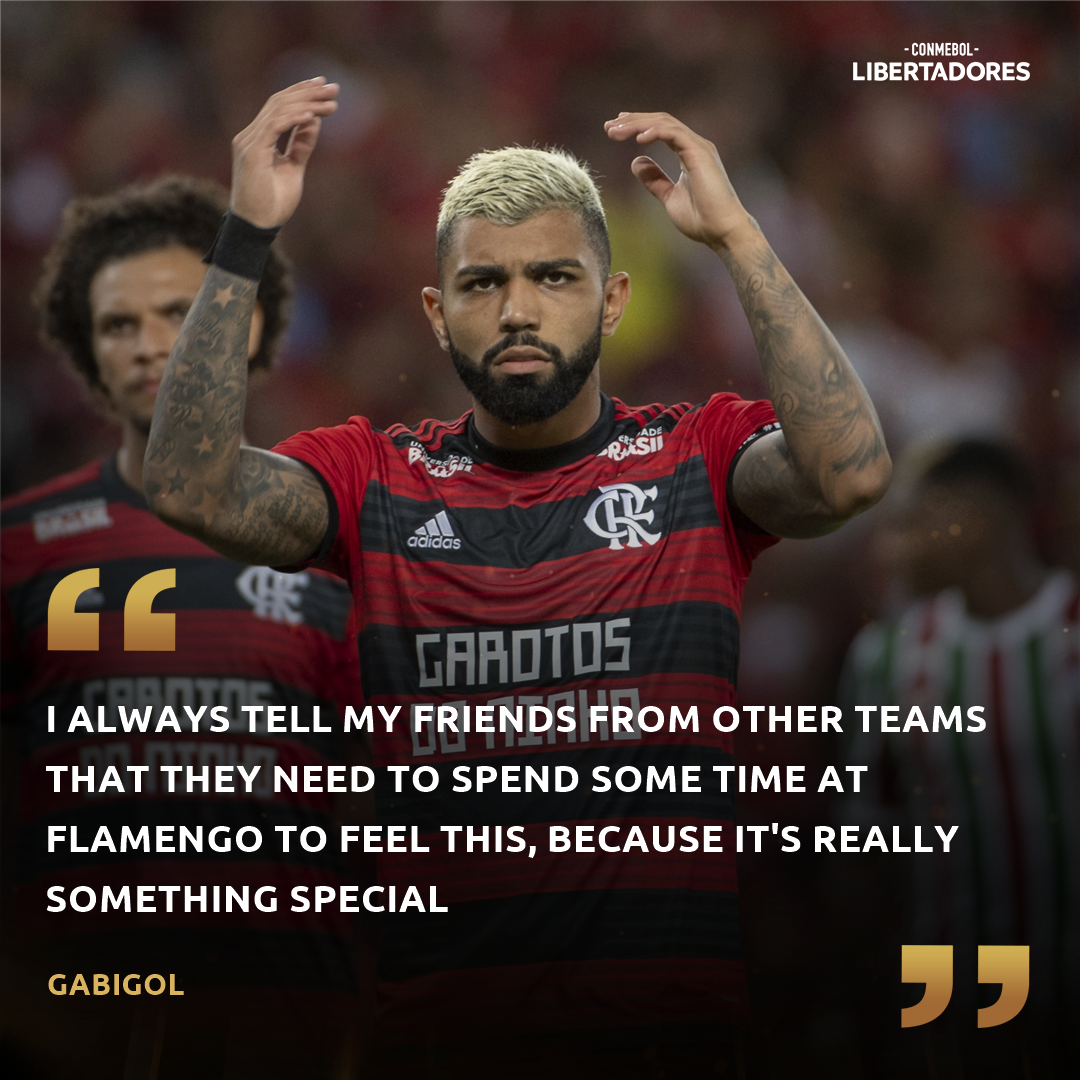 You're close to an important mark, 100 goals in your career, what does that mean to you?
Honestly, I'm not nervous about it. I'm happy, of course it's an important mark, I'm only 22. But I hope that it happens soon so I can celebrate.
What would a Libertadores title mean if it came?
I honestly don't know. It would be unforgettable for me. I always tell my friends from other teams that they need to spend some time at Flamengo to feel this, because it's really something special.