From Costa Rica to India, to everywhere in between. The story behind Américade Cali manager Alexandre Guimarães.
Books have always been significant to Alexandre Borges Guimarães. Born in Brazil, but a Costa Rican international after moving to the country as a youngster, Guimarães' memories, even his footballing ones, are somehow all related to literature. He remembers when he was 13 in San José, spending Saturdays with his father perusing the local bookstores in search of yet another source of knowledge. It was on one of those Saturdays that he found himself browsing the magaizes and encountering El Gráfica. In it the words spilled from the pens of journalistic heavyweights like Carlos Juvenal, Feliz Frascara, and plenty others. Football was described in ways he'd never before read. "My childhood involved a lot of football in the street and a lot of books in the house" Guimarães confesses. As a teenager, Guimarães would leave school and on his way home buy a magazine, a Guaraná, and delight himself with all of the latest footballing news. 
In Brazil, Guimarães lived at the end of a dead-end street, a perfect recipe for after school street football. Guimarães was always the smallest, not just in his family but in the barrio as well, but always found himself picked because of his ability to play. At first, it was one building against another, then they'd formed a team of the best in his barrio to go and challenge the best from other barrios. 
After his father's work required the family to move to Costa Rica, a new chapter began for Guimarães. His time with the Costa Rican national team featured a trio of World Cup appearances, first as a player in 1990, then as manager in 2002 and 2006.
Italy 1990 marked Costa Rica's first ever World Cup appearance. "Costa Rica had always been a country in love with football, but they'd never had the chance to feature in a World Cup", remembers Guimarães. "There were generations of really good footballers... but they never made it to the World Cup." Guimarães started the qualifying process as captain of the squad, but after a managerial change was left out of the squad for the final round of qualifying. After Costa Rica qualified, antother managerial change was made, with Bora Milutinović now in charge. 
"He'd seen me play at Saprissa, where I spent just about my whole career, and called me up", Guimarães says. His time with Milutinović, "taught me what it meant to be a high level manger. [Milutinović] knew how to train a player, how to communicate, he knew world football, and could handle the press, speaking different languages, how to work with the directors, how to identify leaders in the team... For me, it was all a fast-tracked course in how to be a manager."    
Guimarães' time in Italy would later be recorded in a book, with a perfect title to boot: La Gran Fiesta. "I'd always looked for things written about Costa Rican football but never found anything, or only very little. I decided to document our experiences and in the end it turned into a great book" Guimarães says of his motivation for the project.   
He wrote for two to three hours at a time, all by hand, and still possesses the original copy. 
After Italy 1990, which saw Costa Rica advance out of their group ahead of traditional powers Scotland and Sweden before falling to Czechoslovakia in the Round of 16, Guimarães played professionally for another few years before stopping. "I started to study, to take courses, internships in Europe, all to become an elite level manager" says Guimarães of his post-playing career. 
2000 found Guimarães serving as assistant manger for the Costa Rican national team after previously serving as manager of Saprissa. After failing to qualify for both the 1994 and 1998 World Cup, Costa Rica were hoping for a return to world football's biggest stage. In the second round of qualifying, Costa Rica and Guatemala finished tied for second in their group, even on goal differential, goals for, goals against, and head-to-head results. With a spot in the final round of qualifying on the line, the two sides were set to meet in Miami in early 2001. 
When the manger at the time stepped down, he reccomended Guimarães take his spot for the critical playoff match. "They asked me if I'd do it, and I said that if the previous manager had reccomended me then I'd step up and do it" recalls Guimarães. 
In front of 41,000 at the Orange Bowl in Miami, Costa Rica defeated Guatamala 5-2 and days later Guimarães was handed the reins as national team manager for the rest of the World Cup cycle. 
Costa Rica would finish atop CONCACAF's qualifying hexagonal ahead of both Mexico and the United States, even beating Mexico 2-1 at the Estadio Azteca.
After bowing out in the group stage in South Korea, Guimarães would again lead Costa Rica to the World Cup in 2006. Guimarães stepped away from the national team after his experience in Germany ended in a trio of defeates, but not before laying the foundation for the next generation of Costa Rican greatness.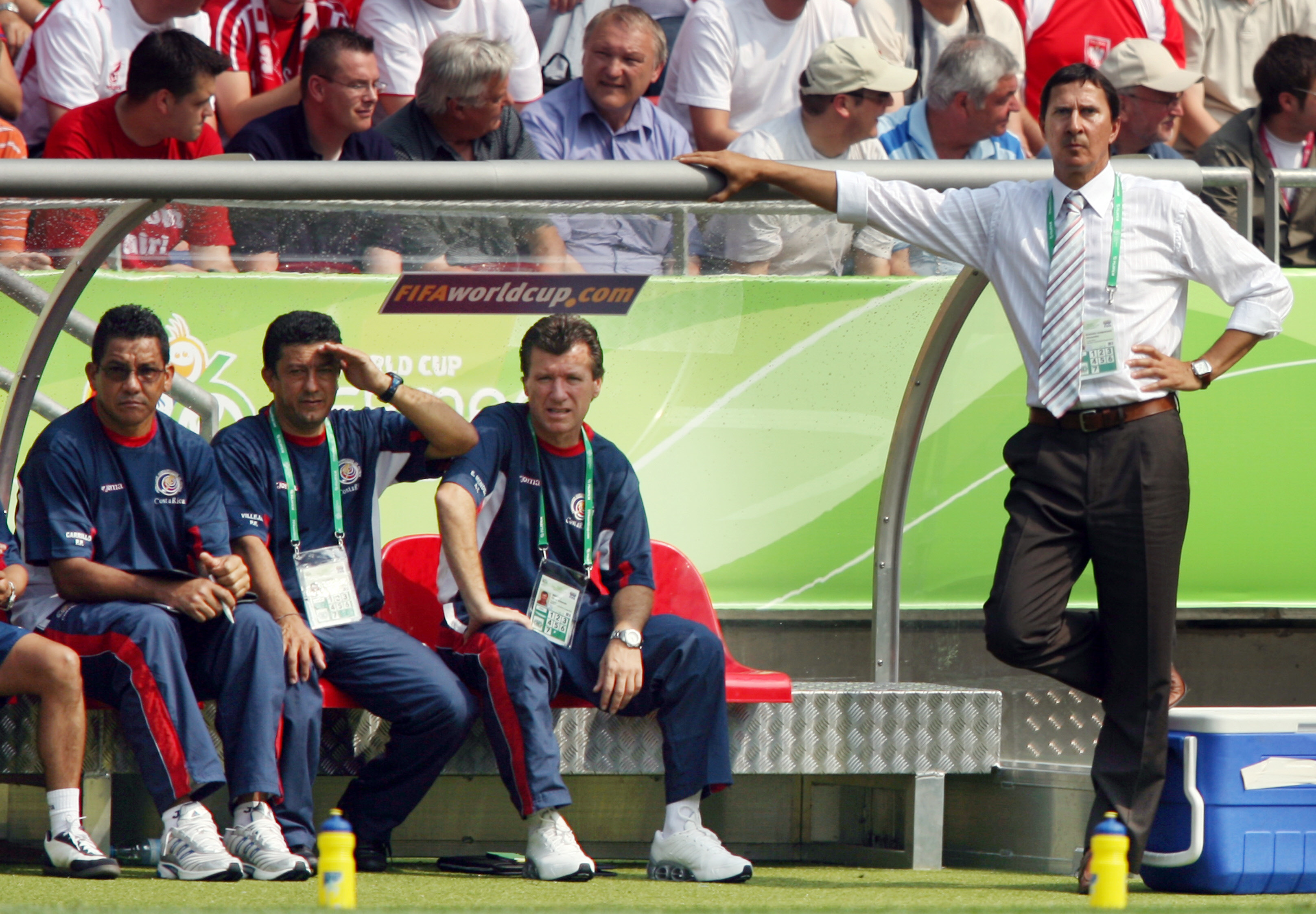 Guimarães spent the majority of the next decade in Asia, managing in the Middle East and China before a stint at Mumbai City in India from 2016 to 2018. 
For Guimarães, Borges wasn't just his middle name, it was also the last name he chose to give to his son Celso, now a fixture himself in the Costa Rican national team who currently plays professionally in Turkey. After stepping away from Mumbai City, Alexandre, "Wanted to take a break from managing because of the upcoming World Cup. I wanted to see my son play for the national team in Russia." 
Like any father, Guimarães takes great joy in watching his son suceed. "When he was younger, I'd give him advice, but now when we talk it's just to share experiences." 
After his self-imposed break, Guimarães was ready for another challenge. "Firstly, I wanted to return to working in Latin America, secondly, I wanted something in CONMEBOL, and I wanted to find an attractive side. All of that led to the match wtih América de Cali, and I had no doubts about accepting the challenge." 
Long viewed as a sleeping giant on the continent, América hadn't featured in the Libertadores for 11 years when Guimarães took charge. Qualifying for the competition was, "one of our objectives when we arrived at the club" says Guimarães. 
A successful 2019 put América back on South America's biggest stage in 2020.
🔴⚪🏆 @Americadecali have qualified for the 2⃣0⃣2⃣0⃣ #Libertadores, their first appearance since 2⃣0⃣0⃣9⃣! pic.twitter.com/kP82uRDmsP — CONMEBOL Libertadores (@TheLibertadores) November 29, 2019
"We ended up in a really competitive group alongside Grêmio and Internacional, two classic Libertadores sides, and Universidad Católica, who have a great record themselves. We've got high hopes" says Guimarães. América opened their campaign by falling 2-0 at home to Grêmio, but rebounded well with a 2-1 win away from home against Católica. 
🇨🇴🇦🇷⚽ Matías Pisano calmly finished off a slick @AmericadeCali attack to give the Colombians an important win away in Santiago! pic.twitter.com/nNwkc8oR9s — CONMEBOL Libertadores (@TheLibertadores) March 11, 2020
With the competition currently suspended, Guimarães is doing everything he can to make the most of the time in quarentine. "We're following a virtural training regimen, I'm in direct contact with the president, the club's owners, and my assistants, preparing and revewing matches. I've talked with the club captains, sometimes we have video chats to see how we'reall doing, we're all in daily contact. It's not the same, but we're doing what we can." 
When the competition does return, Guimarães and his América side will hope to be protagonists. For a man whose life has been so closely linked to literature, there's no doubt that whatever happens, he'll feel right at home writing his own story.