Flamengo stage incredible comeback to beat River Plate and become champions of South America
River Plate so nearly had the job done but they were tiring.
They had been in Flamengo's faces right from the first whistle. Without the ball they had pressed and harried the Rio de Janeiro team into submission and with it they had looked a constant threat. Gallardo's team had totally dominated the game and with just a few minutes to go they were 1-nil up and in total control, holding Flamengo at arm's length.
Previously, in what at the time seemed like a mis-step, Gabriel Barbosa had touched the Copa Libertadores trophy as he entered the pitch. He stroked the base of the giant prize and then rubbed his chest with the magic dust of the past 59 winning captains, presumably thinking of little Zico and his sensational team of 1981.
Coming from one of the most superstitious countries on the planet, this was a strange act from Gabriel. Indeed, until the last five minutes tonight, Gabigol had hardly got close to River Plate's goalmouth to do justice to his nickname in front of an international, primetime TV audience. It seemed the old wives tale was indeed true.
And then, out of nowhere...
Exactly 38 years to the day that Flamengo won their first and last Copa Libertadores, they somehow manage to rob their second off the continent's best and most consistent team of the last five years.
With 88 minutes on the clock, Bruno Henrique again ran at Gonzalo Montiel on River's right, cut inside and on the edge of the area, with four River players around him, managed to lay a pass into the path of Giorgian de Arrascaeta who had gambled.
Javier Pinola had come racing across to cover but couldn't get there before Arrascaeta's outstretched left leg and the Uruguayan hooked the ball across to Gabriel Barbosa, a yard out at the far post.
Suddenly Flamengo were back in the game from absolutely nowhere.
Three minutes later a long ball was pumped upfield toward Gabriel, who had his back to Pinola. The River captain had been superb until this point where he missed his clearing header and let the ball bounce behind him and into the path of the tournament's top scorer.
Screaming into the box and heading the ball down onto his favoured left foot, Gabriel 'Gabigol' Barbosa made a mockery of those old superstitions by thumping a powerful drive off his laces and past a despairing Franco Armani who had no chance to react.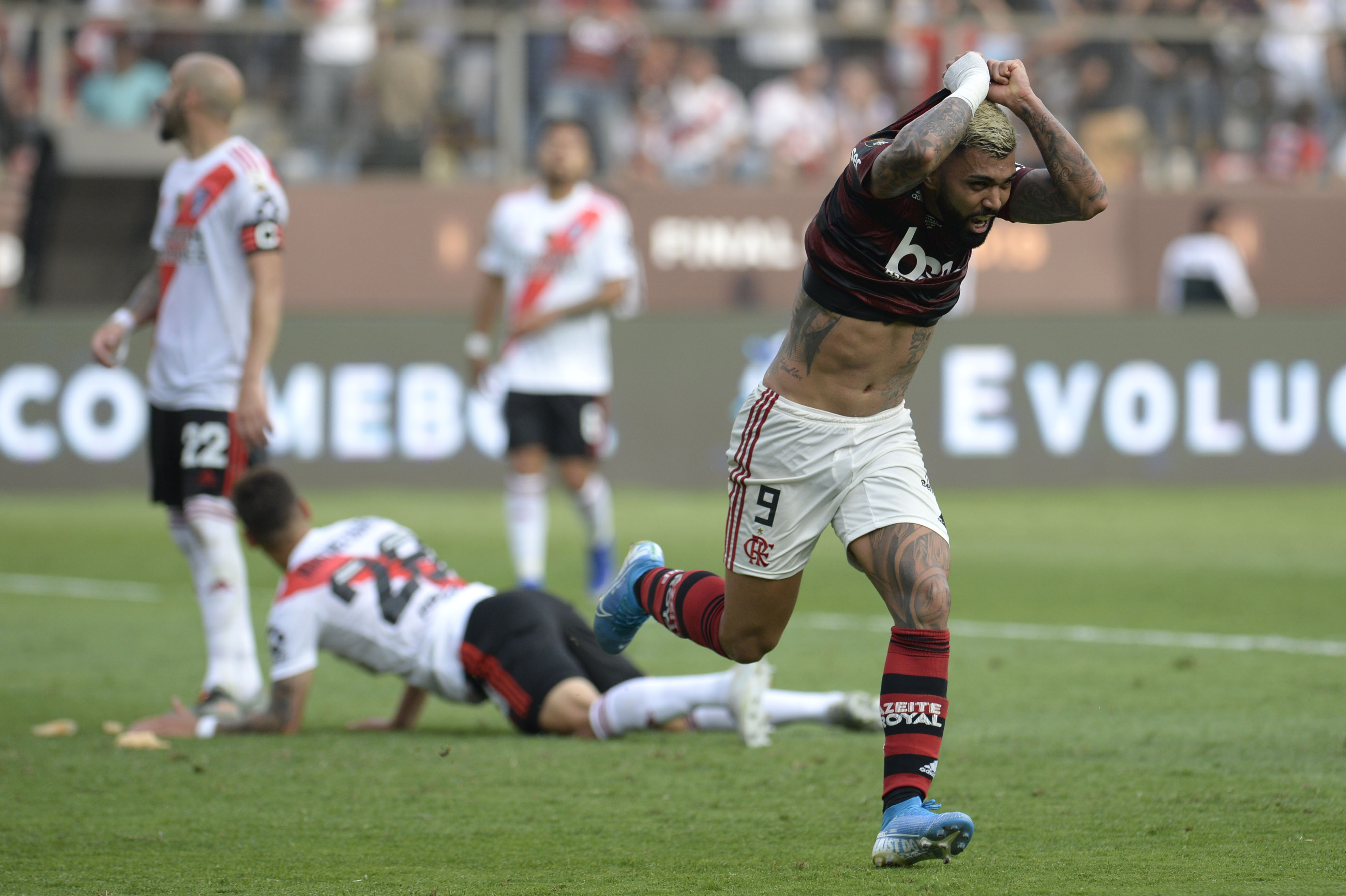 Unbelievably, Flamengo had come back from the dead to grab the 2019 Copa Libertadores and book their place in next month's Club World Cup where they have a chance to face Liverpool again, just like they did in 1981.
No one saw it coming. Least of all the River Plate fans who must have felt like they already had one hand on the trophy.
The Argentines had played a near-perfect first-half. Showing all the class and nous of defending champions they swarmed all over Flamengo right from the first whistle. Playing an extremely vertical 2-3-3-2 that strangled the Brazilians in the middle of the park and didn't allow Gerson or Everton Ribeiro a moment's peace, let alone a moment to look up and pick a pass.
On 14 minutes, Filipe Luis, who had a poor game, failed to react to a pass down his side of the Flamengo penalty area and Nacho Fernandez squirted a low cross into the box. Arao left it for Gerson and Gerson left it for Arao while Rafael Borre reacted quickly and, unchallenged, hit it on the turn low and hard past Diego Alves.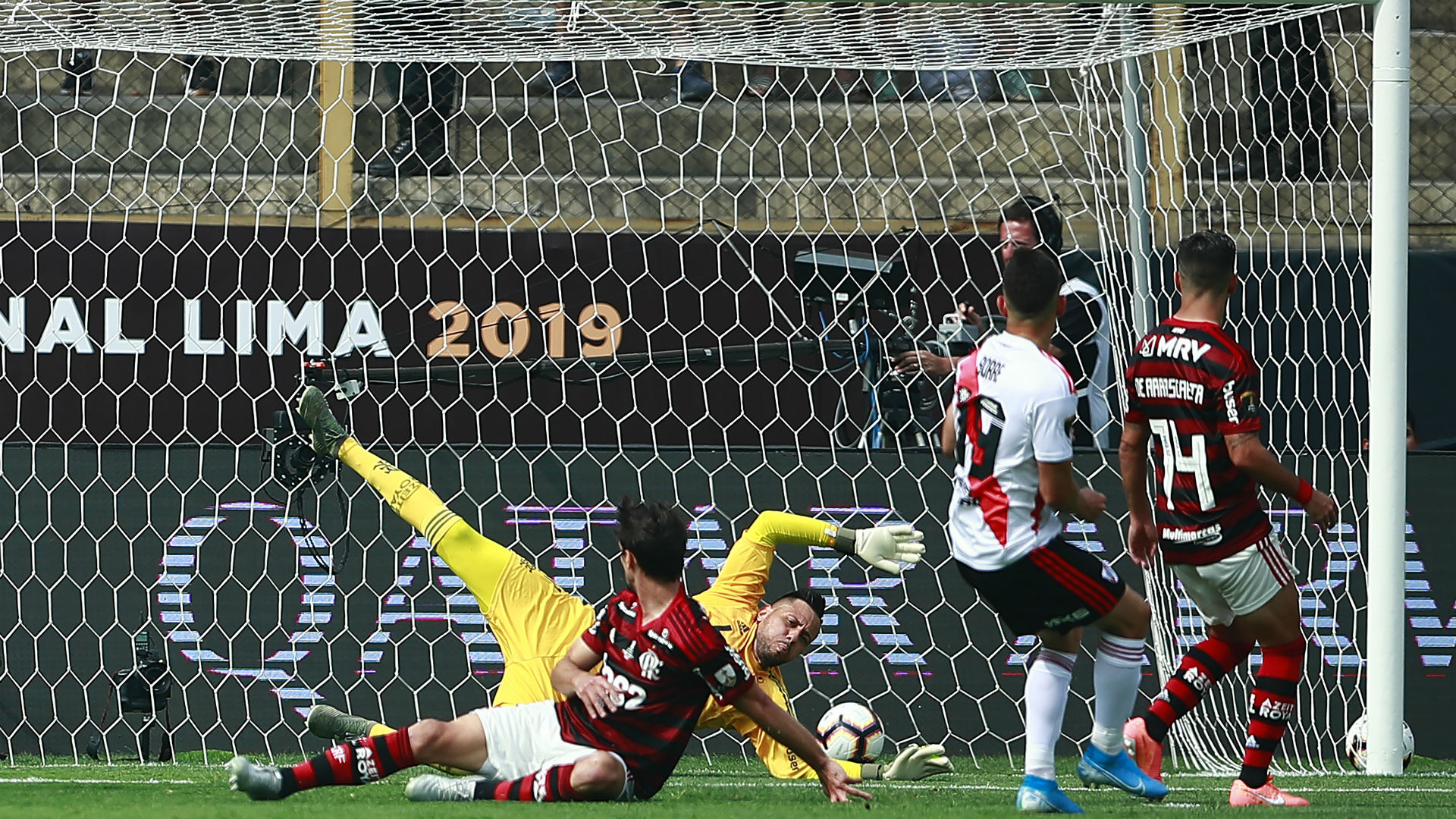 River were so brilliant without the ball that Flamengo could find no way through them and every time Los Millionarios won it back they looked dangerous on the counter.
Gallardo's famous and feared midfield machine was whirring nicely.
Nicolas De La Cruz, who made a nuisance of himself the whole game, almost made it 2-nil on 21 minutes after a great break from Matias Suarez down the left. Exequiel Palacios had been orchestrating things nicely through the middle of the park and also had two long range efforts that both just fizzed perilously close to Alves' posts. Meanwhile, Enzo Perez dominated in defence and was distributing his trademark long balls, finding other white shirts with ease.
The second half saw more of the same.
Frustrated by the lack of time and space and all the tough challenges flying in from everywhere, the Cariocas looked like rabbits in headlights and the free flowing football that had got them this far was nowhere to be seen. The two experienced full-backs were getting hammered and they needed another leader to inspire the come back.
Then, all hell nearly broke loose as Flamengo countered with Borre lying on the ground, seemingly injured. Gabigol struck a shot against the lunging De La Cruz which cannoned into Everton Ribeiro's path but Armani made the tricky save look easy, diving low to his right.
Both Gabriel and Everton Ribeiro could not find the calm they needed to put Flamengo level.
Gerson actually asked to come off, battered into submission by Perez and it looked like Flamengo might roll over.
Enter Diego Ribas.
The club captain, injured in the last 16 game against Emelec had only returned to fitness a few weeks prior to the final. His presence inspired a fightback in the last 20 minutes and finally, Flamengo were starting to put crosses into River's box with some conviction. Diego and Everton Ribeiro started to find pockets of space after Nacho Fernandez had made way for Julian Alvarez and the battle for control of the midfield had shifted.
The Argentines were tiring and it was now or never for Flamengo. On 75 minutes, Bruno Henrique again broke down the left, rolled it toward Diego who laid it into Gabigol's path and his shot ricocheted up and over to where Arrascaeta tried an audacious overhead, which trickled wide.
"Vamos Flamengo!" Came the shouts from half the arena as the Argentines responded and the Estadio Monumental reverberated to the sound of two fanatical sets of rival supporters.
With River looking to kill off the game, Diego won the ball from Lucas Pratto and set Bruno Henrique free to create the chance for the equalizer with just a minute left on the clock.
Just a few moments later, with Gallardo's carefully laid pieces over-stretched for the first time, it was Diego's long ball that set up Gabriel for the winner. River could not believe what had just happened.
Palacios was sent off for a kick on Bruno Henrique right at the death and then Gabriel saw red for dissent. A final moment of madness to cap off a quite incredible finale.
Flamengo have been used to dominating teams this year but were totally outplayed for almost 90 minutes and somehow came away with the victory. Their Portuguese manager, Jorge Jesus, has shaken this sleeping giant from its slumber. It's unlikely they will have to wait another 38 years to win this title again.
This time it is the name of Gabriel 'Gabigol' Barbosa that will go down in rubro-negro history after he had a nightmare evening but somehow still found the drive to drag his team into dreamland.