Watch All 6 Episodes of "La Glória Eterna" mini-series
November 23rd of 2019 is a date forever marked in the history of Flamengo in the CONMEBOL Libertadores. The first one-off Final played at a neutral ground saw the rubro-negros crowned champions of the continent after 38 years with a dramatic comeback against River Plate at the Estado Monumental in Lima, Peru. The title-winning campaign will be re-told by its protagonists in "La Glória Eterna", a mini-series of six episodes debuting on July 14th. 
Watch Episodes 1 & 2
Watch Episodes 3 & 4
Watch Episodes 5 & 6
The new CONMEBOL Libertadores production presents previously unseen images from the matches as well as exclusive behind the scenes footage, plus interviews with players, ex-players and the managers of Flamengo and River Plate both before and after the Final. The project features interviews with Zico, Jorge Jesus, Marcelo Gallardo, Franco Armani, Bruno Henrique and Gabriel Barbosa, among others.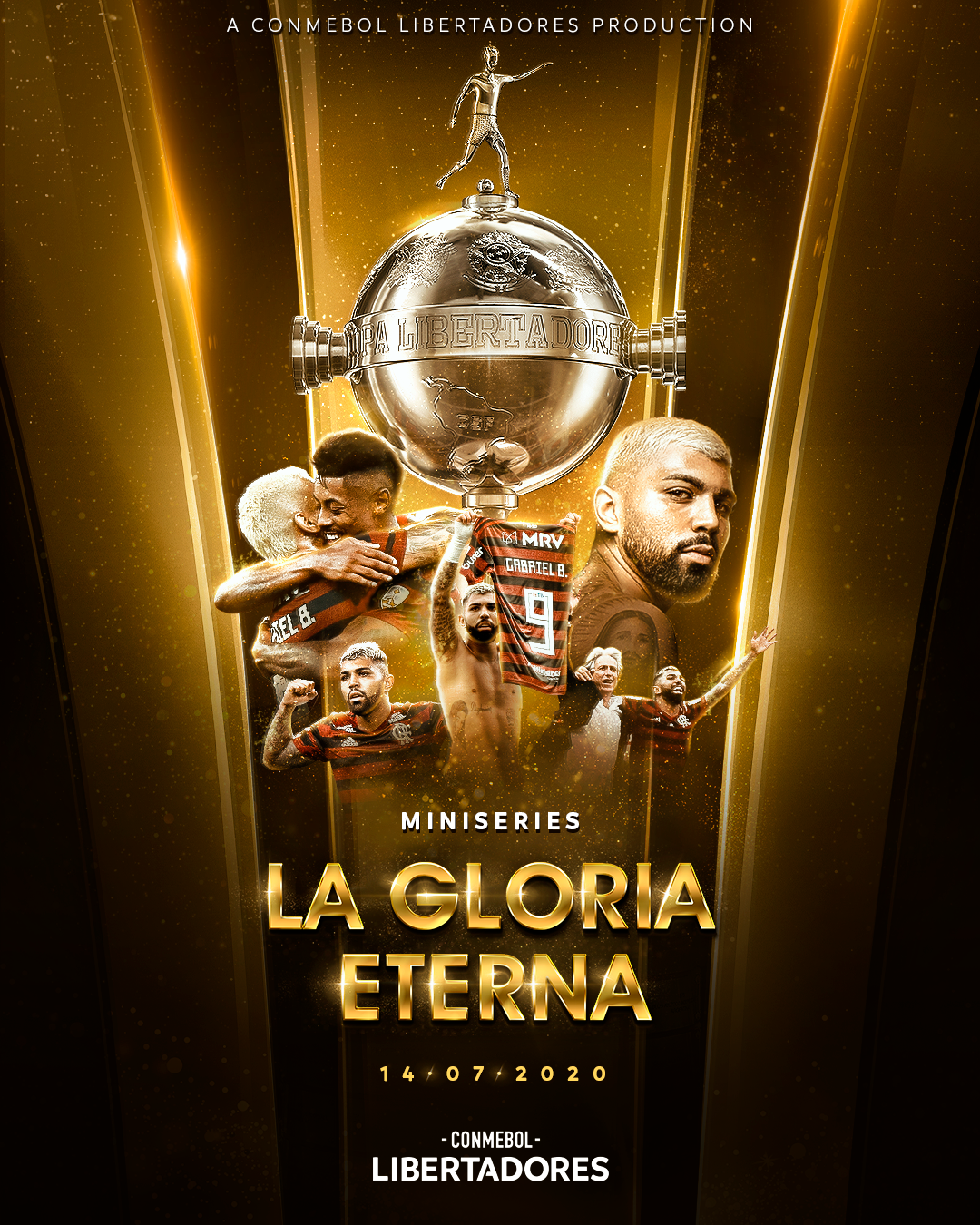 The project "La Glória Eterna" is a creation of the Digital team of FC Diez Media, CONMEBOL's partner in content creation for South American club football tournaments. The mini-series also features an exclusive soundtrack produced by musician Stephan Peizoto, or Sain, who is a Flamengo supporter himself. 
"La Glória Eterna" begins in 1981, when Flamengo won the Libertadores for the first time, defeating Cobreloa- on the same date, November 23rd, as the 2019 Final- and remembers Flamengo's 13 subsequent unsuccessful Libertadores campaigns before qualifying for the 2019 Final against River Plate in Lima. 
"Flamengo's campaign in the 2019 CONMEBOL Libertadores is a story of overcoming that deserves to be remembered." said CONMEBOL President Alejandro Domínguez. "Their conquest represents the South American football passion that 'Always Believes' until the final minute to achieve their dreams. Without a doubt, this mini-series will allow us to enjoy the great passion of our football and help tell the whole world about this special way we live sport in South America."
Two episodes of the mini-series will be broadcast each Tuesday (July 14th, 21st, and 28th) on CONMEBOL Libertadores' Facebook page. "A Glória Eterna" was offered exclusively to each of the CONMEBOL Libertadores' rights holders.  
The partnership between CONMEBOL and FC Diez Media already produced two other special films: "23/11- Glória Eterna for Flamengo", which told the story of the 2019 Libertadores Final in detail, and "Gre-Nal the Film" which marked the first ever meeting of Grêmio and Internacional in the Libertadores.
"LA GLÓRIA ETERNA"
Runtime: 1h58, divided into six episodes
Broadcast: July 14th, 21st, and 28th, at 21h30 (Brasília) on Facebook.
Realization: CONMEBOL
Executive Production: FC Diez Media
General Direction: Ricardo Taves
Script and Project: Thiago Salata, Thiago Rocha and Marcio Porto
Director of Production: Adriano Esteves
Soundtrack: Sain