14 goals, 14 saves, and 14 stories from Rogério Ceni, the Brazilian with the most Libertadores appearances
A one-club man, Rogério Ceni holds the record for most Libertadores goals by a goalkeeper with 14. His 90 Libertadores matches played are also a record among Brazilians in the Libertadores' history. His 14 goals rank tied for first among São Paulo players in Libertadores history. his 51 Libertadores matches won are most among anyone in the history of the competition.
If ever the term idol was an understatement, it might be in describing Ceni's relationsthip with São Paulo.Ceni won a pair of Libertadores trophies with the club, first in 1993, then in 2005. He featured for São Paulo over a span of 20+ years, never once leaving to play for another club. He is synonymous with São Paulo in a way that few players are at their respective clubs. 
🇾🇪⚽🧤 Another historic goalscoring goalkeeper!

We celebrate @SaoPauloFC_eng's Rogéiro Ceni by reliving his 1⃣4⃣ #Libertadores goals and 1⃣4⃣ of his best saves. A champion in 1⃣9⃣9⃣3⃣ and 2⃣0⃣0⃣5⃣, #Ceni is the Brazilian with the most Libertadores appearances. pic.twitter.com/x7uVUmaXEb

— CONMEBOL Libertadores (@TheLibertadores) April 27, 2020
1) It's not an exaggeration to say that the São Paulo's Estadio Morumbi is, or at least was, Rogério Ceni's home.The goalkeeper lived at the stadium, literally, at the beginning of his career with the club, from 1990 to 1994..
2) Ceni became São Paulo's number one goalkeeper in 1997, after Zetti moved on from the club to Santos, and held onto that role for the next 19 years, until the end of 2015. In that same year, Ceni scored his first career goal, on a free-kick, on February 15th in a 2-0 win over União São João. After impressing with his dead ball abilities in training, manager Muricy Ramalho gave him the go-ahead to turn into the club's official free-kick taker. 
3) São Paulo changed managers in 1998, and the new manager Mario Sergio forbade Ceni frmo taking free-kicks. In 2011, he explained his decision in an interview with GloboEsporte.com. "When I arrived, I told him he wouldn't take them because of a physical question, to ensure he wouldn't over-stress himself. If you watch, there are some plays where he runs 90, 100 meters to get back into the goal. I wanted him to be concentrated on his role between the posts. He accepted it without question, which shows his character. I never had any issue with him about it. If I forbade him from doing it today, I'd be an idiot, but I don't regret what I did at the time."
4) The CONMEBOL Libertadores played a key role in establishing Ceni as a club legend at São Paulo. In the 2000's, he strung together a series of epic performances, including in 2005 when he lifted the cup as club captain. Ceni also won the trophy in 1993, playing a secondary role in the club's success as back-up goalkeeper. In 2004, he scored his first Libertadores goal, a free-kick in a 2-1 victory over Alianza Lima. 
5) With 14 goals scored, Rogério Ceni is the joint top scorer in São Paulo's Libertadores history, an honor he shares with Luis Fabiano.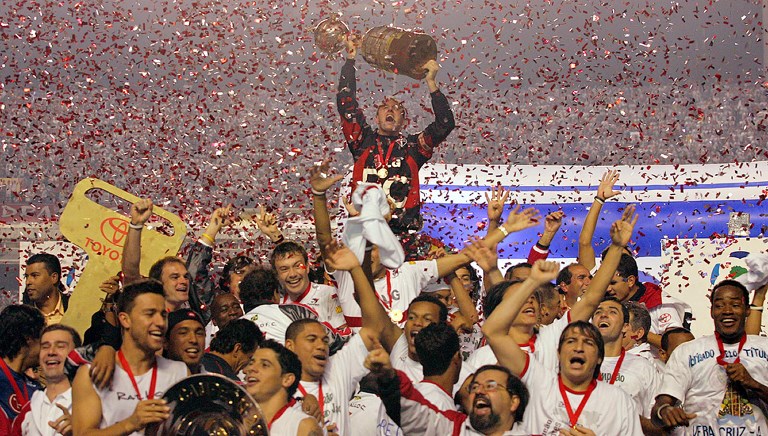 6) Ceni is the Brazilian with the most Libertadores appearances, featuring 90 times. Cruzeiro's Fábio, another legendary goalkeeper at his club, sits tied for second with 83.
7) Rogério Ceni played 8,160 minutes in the Libertadores, the most of any Brazilian, and third most in the history of the competition.
8) Of the 51 penalties saved by Ceni in his career, 8 came in the Libertadores. 7 came in shootouts, with another coming during normal time.
9) Saved... and scores! Ceni is the player with the most penalties scored in the history of the Libertadores: 8. 
10) In 2005, a year that saw São Paulo win the São Paulo state league, the CONMEBOL Libertadores and the FIFA Club World Cup, Ceni was São Paulo's leading scorer, with 21 goals: 10 from free-kicks, and 11 penalties.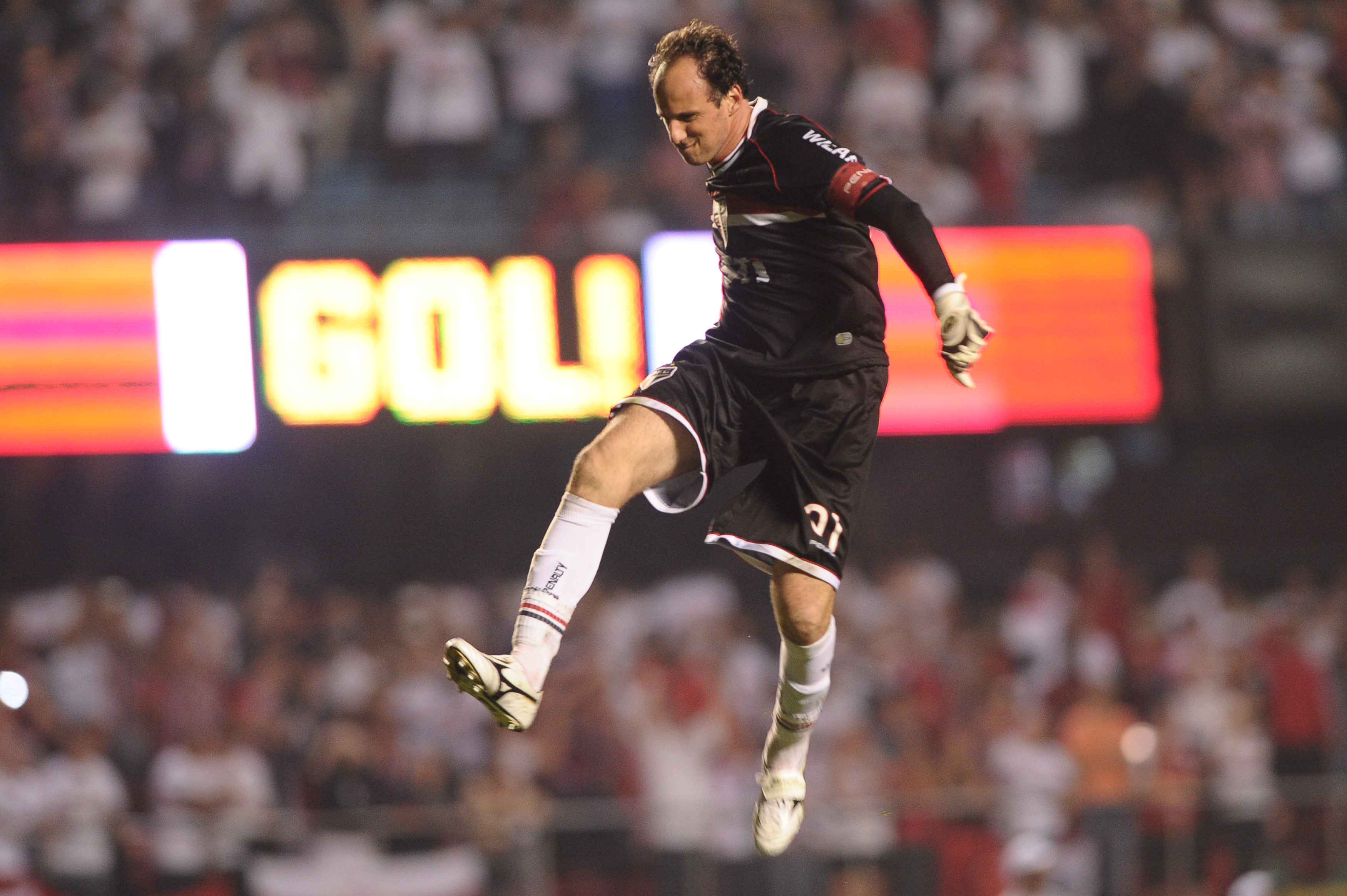 11) Ceni scored five times in São Paulo's Libertadores title-winning campaign of 2005. He scored in the Round of 16 (against Palmeiras), the Quarterfinals (against Tigres), and in the semifinals (against River Plate). 
12) Against Tigres in the quarterfinals, Ceni nearly scored his first career hat-trick. In the first leg, Ceni scored a pair of free-kicks, and was given a chance to score a third, but failed to convert. He never recorded a hat-trick in his 25 year professional career. 
13) In the Libertadores, São Paulo lost just once when Ceni scored. Once Caldas defeated São Paulo 2-1 in 2010, with Ceni scoring in defeat.
14) Ceni's final Libertadores goal came on April 17th of 2013, in São Paulo's 2-0 win over Atlético Mineiro. His final Libertadores match happened on May 13th of 2015. Ceni scored a penalty and saved two more in the Round of 16 against Cruziero, but his side were eliminated 4-3 on penalties. 
⭐🏆 A @SaoPauloFC_eng legend, Rogério Ceni lifted the #Libertadores in 1⃣9⃣9⃣3⃣ & 2⃣0⃣0⃣5⃣.

⚽🧤 #OnThisDay 5⃣ years ago, Ceni took part in his final #Libertadores match, converting a penalty and saving two as his side fell to @Cruzeiro in the Round of 16.⁣ @amstelbr pic.twitter.com/EXQ32hSWLf — CONMEBOL Libertadores (@TheLibertadores) May 13, 2020